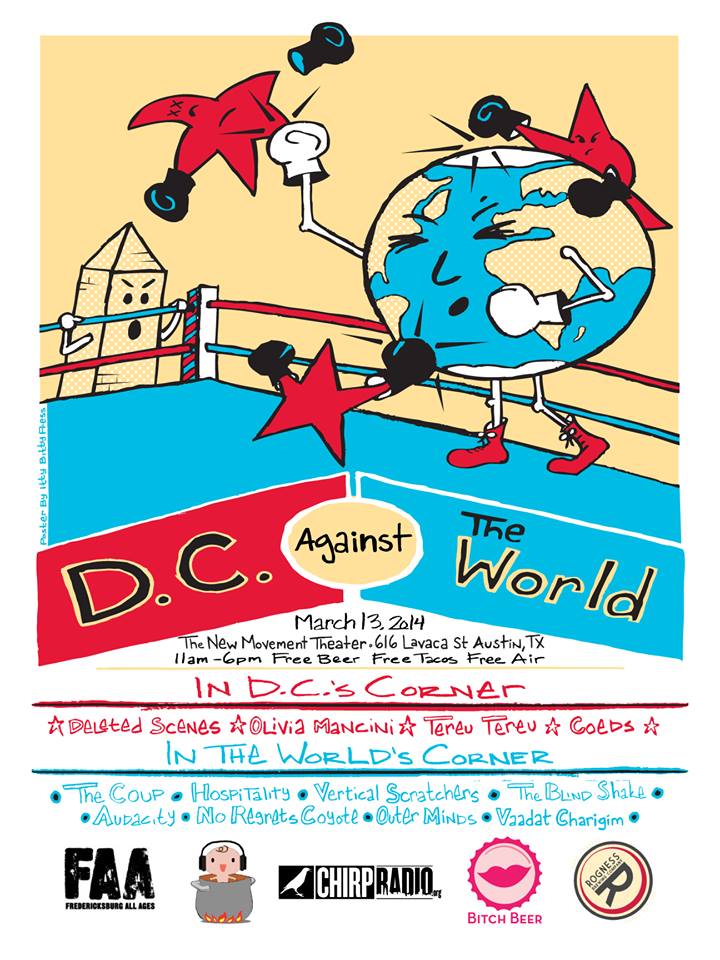 By now you should be in full planning mode for SXSW. If you're not, you're in trouble. Don't worry though, I'm here to help. What are the keys for the best day shows? It has to have amazing bands, free beer, and free tacos. If you agree then my friends and I are hosting the perfect show for you: DC Against The World at The New Movement on Thursday, March 13 from 11AM to 6PM.
The show is to a follow up to last year's packed DC vs Austin event and is the seventh year we've thrown a party spotlighting bands from Washington, DC. Each year the party has got bigger and better. This lineup is our best yet thanks to sponsors CHIRP – Chicago Independent Radio Project, Fredericksburg All Ages, Rogness Brewing Company and Bitch Beer.
Representing DC are art rockers Deleted Scenes, singer-songwriter Olivia Mancini, the much buzzed about Coeds, and indie rockers Tereu Tereu. The bands representing the World are funk-punk gods The Coup, indie pop trio Hospitality, Vertical Scratchers (featuring members of Brainiac/Enon) , garage rockers The Blind Shake, The Audacity and No Regrets Coyote as well the Hebrew shoegaze of Vaadat Charigim, and psych-rockers Outer Minds. Set times are as follows …
Theater Stage (Doors and Breakfast Tacos at 11 AM)
11:25-11:55 Olivia Mancini
12:20-12:55 Audacity
1:30-2:10 The Coup
2:45-3:20 Blind Shake
3:55-4:30 Deleted Scenes
5:05-5:40 Outer Minds
Back Stage
11:55-12:25 Vaadat Charigim
12:55-1:30 Vertical Scratchers
2:10-2:45 Hospitality
3:20-3:55 No Regrets Coyote
4:30-5:05 Tereu Tereu
5:40-6:00 Coeds
Be sure to RSVP here to enter our Merge Records prize pack drawing! Check out the bands below and also subscribe to our Spotify Playlist to hear even more great tracks.
:Audacity – Rooster:
:Vertical Scratchers – These Plains:
:Coeds – Sensitive Boys:
:Vaadat Charigim – Odisea:
:Deleted Scenes- The Days Of Adderall:
:The Coup – The Magic Clap:
:Hospitality – Going Out:
:The Blind Shake – Garbage On Glue:
:No Regrets Coyote – Rat Tail:
:Tereu Tereu – Cage Was Right:
:Olivia Mancini – Let's Do This:
:Outer Minds – Something New: