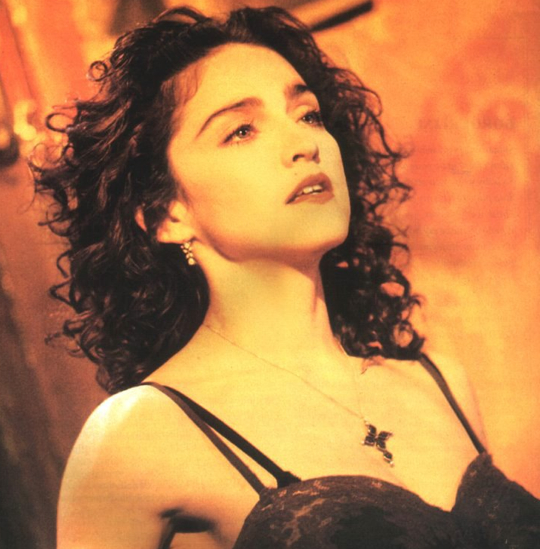 As you may have noticed from the last post, I've been really into lists lately. I'm not sure exactly why, I've just been in a very High Fidelity mood these days. So today I bring you my Top 5 Music Videos. It was a very hard list to make, and I know I've left out some classics … but this is my desert island VJ mix.
5. Madonna – Like A Prayer
Okay, I wasn't even born when this was released, but even my generation is still aware of the scandal. This does what many great music videos strive for and fail at; making a statement, but not preaching. Sure, the message of Madonna sexing up an African-American Jesus may have been a little shocking to some, but there's a great message about racism if you pay attention to the actual storyline. Plus, young Madonna looks radiant and beautiful, and the choir is awesome. And in the end, it's all a play, so no one was actually hurt.
4. Usher – Confessions Part II
The first 1:20 really seal the deal for me; you almost don't need to watch further. The dramatic phone call, as you watch his reactions; the singing passionately while walking around; and finally, the best of the best, his dramatic turn around in the car at 1:13. "I know you hate me. I know I hurt you. But there's more. Listen" and then the darkness ushers (see what I did there? Eh? Eh?) you into the the actual song. Sure, the rest of the video is great, especially if you're into attractive men looking pained (spoiler alert: the sweater AND the tank definitely come off) and getting slapped by jilted lovers. There's some pretty sweet baby mama drama, oh and Usher shatters an entire mirror wall just by looking at it … Usher, why you gotta be so unintentionally hilarious?
3. Beastie Boys – Sabotage
Three dudes. Fake mustaches. Bad wigs. Extreme silliness and crazy hijinks. Could you ask for anything more? This is the ultimate embodiment of the Beastie Boys attitude towards life … you can't not have fun watching it. There's just not much more to say than "enjoy!"
2. Blink-182 – All The Small Things
This one is in a similar vein of three dudes having fun. The great thing about Blink-182 is they were equal opportunity offensive; they made fun of everyone. The particular target of this video is boy bands, and although some of the references now seem woefully outdated, the spirit of the gags live on. All the guys are great, but Tom is really the star of this one, from the camo pants and bustier to the dancing, and the toilet, and just every damn facial expression. Say what you will about their music, these guys know how to do a video right.
1. REM – Furry Happy Monsters (Shiny Happy People)
Okay, I know this is not technically the official music video for this song. But has there ever been a better pairing of music and video than this one? Sesame Street is known for having hosted many great musical guests, but this one is by far my favorite. I think part of it is how truly happy the band looks; a genuine Stipe smile seems so rare. And that yellow monster, shouting! And the monster version of Kate Pierson! So fantastic, truly.