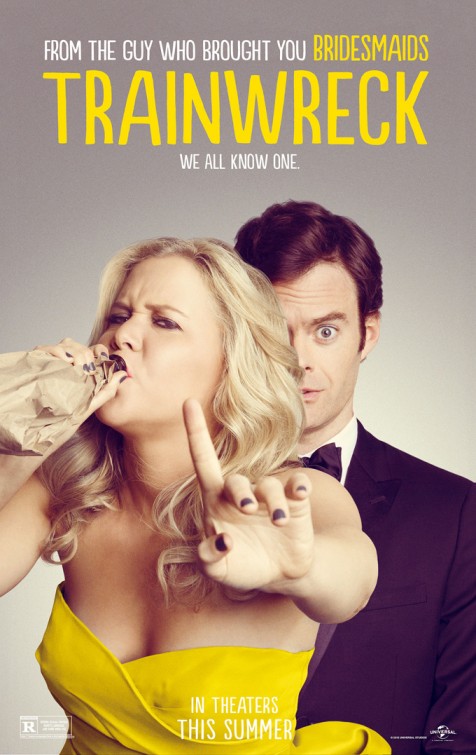 The Impression:
Written by Amy Schumer.  Directed by Judd Apatow.  Featuring Amy Schumer, Bill Hader, LeBron James, Colin Quinn, Tilda Swinton, John Cena and more.  Trainwreck is surely a can't miss comedic affair, right?
The Reality:
I actually saw a "working" print of Trainwreck back at SXSW and really liked it.  I suppose I didn't need to see it again, but I was curious to see how it would hold up.  Would I still find it to be as funny and charming as I did the first time around?  Would I find Amy Schumer's first big role to perhaps be a bit less enticing on viewing number two?  Or maybe it just wouldn't play as well without the rabid crowd that usually comes along with a SXSW screening?
Nah to all of those things.  The film is really goddamn good.  In fact, my wife has now missed both screenings, and if she wants to go I'd be happy to sign up for a third viewing.  Trainwreck is easily Judd Apatow's best film since Knocked Up (and one of his better overall efforts), and it will certainly be the thing that launches Amy Schumer into stardom.  Good for the both of them.
One other thing, a ton of praise must be given to every single one of the movie's minor characters – they're all fantastic.  If you ask me, while Schumer and Bill Hader will be what most remember about Trainwreck, the movie only works as well as it does because of its stellar supporting cast.
See Trainwreck immediately.  It has a lot of heart and is really funny, and you will dig it.
PS – I didn't really notice any differences between the "working" print and the "final" cut, but I will say I felt as though the latter moved better and didn't feel as long.  Granted, this could have totally been because I knew what to expect and I wasn't exhausted from the SXSW grind.
The Lesson:
All aboard the Amy Schumer train.