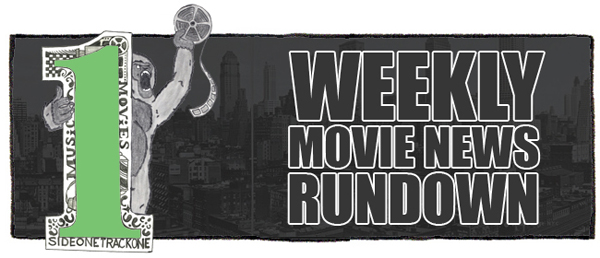 Time for your weekly movie news update!  Below you'll find a slew of sentences meant to provide a brief glimpse of what's been going on over the past week in movieland.  If something leaves you desperate for more info, then my advice is to do a little extra research on one or all of the following fantastic sites:  Latino Review, Dark Horizons, Ain't It Cool News, CHUD and/or JoBlo.  Read on!
John Lasseter is set to direct Toy Story 4.  Rashida Jones and Will McCormack will pen the script.  Pixar will release the film on June 16, 2017.
Peter Berg will direct Mark Wahlberg in The Six Billion Dollar Man.
Star Wars: Episode VII has been given the official title of Star Wars: The Force Awakens.
The full cast for Quentin Tarantino's The Hateful Eight has been announced – Samuel L. Jackson, Kurt Russell, Jennifer Jason Leigh, Walton Goggins (Justified), Demian Bichir (A Better Life), Tim Roth, Michael Madsen, Bruce Dern and Channing Tatum.
Jamie Foxx is set to star in The Trap for Harmony Korine.  It's said to be a gangster drama.
Christian Bale has dropped out of Danny Boyle's Steve Jobs biopic.  Rumor has it that Michael Fassbender may replace him.
Antoine Fuqua is set to direct Jake Gyllenhaal in The Man Who Made It Snow, which is based on the true story of Max Mermelstein, a Jewish hotel engineer who helped expand Pablo Escobar's drug cartel.
Jared Leto is the rumored choice to portray the Joker in David Ayer's Suicide Squad.
Noomi Rapace, Orlando Bloom, Michael Douglas, John Malkovich and Toni Collette are set to star in Unlocked.  The film is said to follow a CIA interrogator who accidentally provides useful information to terrorists and then must figure out a way to stop them.
Jason Statham is set to star in Mechanic: Resurrection.  Michelle Yeoh, Jessica Alba and Tommy Lee Jones have also signed on for the movie.
Kevin Spacey and Michael Shannon are set to star in Elvis & Nixon.  The film will detail a meeting between the two in 1970.
Scott Waugh (Need For Speed) may direct Inversion, which is said to follow two men as they try to save the Earth from gravity reversal.
Matt Damon recently confirmed that he is set for another Bourne movie.
If you'd like more info on the upcoming Warcraft film from Duncan Jones, then click here.
Uma Thurman will star in Night And Fog.  She will portray Vera Atkins, who was an intelligence officer in France during WWII.
This Week's Notable Trailers