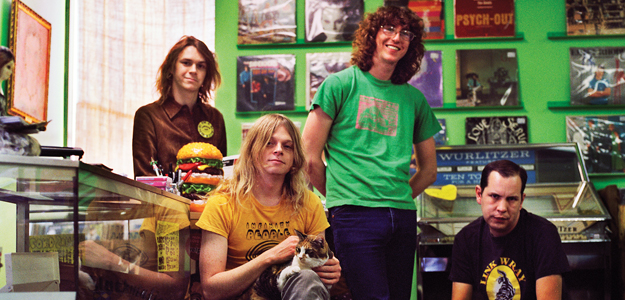 Like it or not, SXSW is just around the corner. I can't say I'm ready for it, but I'm getting there. I'm currently working on the follow up to last year's DC vs Austin show, but since we're not yet ready to release the details for that party, I figured I'd suggest another SXSW show.
If you love garage rock as much as I do then you're probably aware of Burger Records. It's an independent record label and record store in Fullerton, California. The label was founded in 2007 by two members of Thee Makeout Party. The record store opening followed soon after in 2009.
So what makes Burger Records so special? First, they are known for releasing most of their music on cassette. Their loyalty to an outdated but cheap music format helped spark a most unlikely resurgence in tapes. I personally don't long for the days of listening to music from the tape deck of my 1986 Ford Tempo, but to each his own.
My love of Burger is not because of cassettes. It's all about the music. They have released tracks by some of the great garage bands of the past decade: Bad Sports, Black Lips, Diarrhea Planet, King Kahn & The Shrines, Hunx And His Punx, King Tuff, Mikal Cronin, Ty Segall, and Thee Oh Sees.  There are also a number of Austin bands on Burger Records as well – Grape St, Holy Wave, John Wesley Coleman, and The Zoltars (go see them on 3/1 with La Snacks at Spiderhouse!) all have released music through Burger.
I also love Burger's DIY attitude. When I was younger I idolized Fugazi and everyone at Dischord Records for paving their own way. They set the example for punk and hardcore bands on how to succeed on their own terms. The founders of Burger Records have a different model for their business but the DIY motivation is the same.
All of that is to say that you must hear these incredible Burger bands next month during SXSW. The Burger's 5th Annual SXSW Kickoff is on Wednesday, 3/12 at Trailer Space Records. Then the big party, Burgermania III, is on Saturday, 3/15 at Hotel Vegas. You can listen to the sampler below and also stream The Studio B Sampler and Taste of Burger Records.