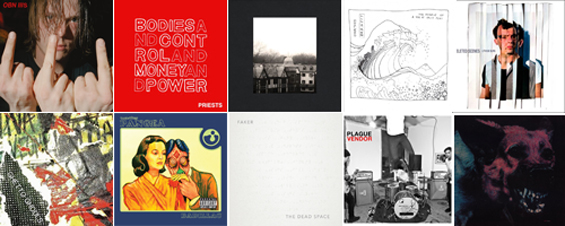 I'm a sucker for the "Top Albums of the Year!" lists, so I've been reading a bunch of articles on the best music for the first half of 2014. It's been fascinating to see which albums I slept on and which ones I maybe needed to give a second listen. The only thing that bothered me was I didn't see many of my favorite records listed. I'm here to fix that.
I've already lavished praise on many of these records (see my album reviews of Deleted Scenes, OBN IIIs, The Dead Space, Ghetto Ghouls and Together Pangea) so it's no surprise to find them on this list. The other five albums are from a scattering of indie, garage, and post-punk bands.
Cloud Nothings proved they are one of the premier indie bands playing today with the release of Here And Nowhere Else. Courtney Barnett is an Australian artist that writes the best deadpan slacker jams since Pavement while Priests are a blistering post-punk trio out of Washington, DC that play with a nasty furor. Free To Eat by Plague Vendor has been on almost constant rotation since I stumbled across it a few months ago. I'm shocked more people aren't talking about this record. Finally, Under Color Of Official Right by Protomartyr is the clubhouse leader for my top album thus far. It's gritty and raw record that reminds me of everything I love about Joy Division, The Fall, and Wire.
If you haven't already done so, check out these records. If I missed any of your favorites then let me know in the comments. I promise to listen to the record then tell you why you're completely wrong and that it's complete crap. Unless of course I actually dig it. Then I'll buy you a beer.
MY FAVORITE ALBUMS OF 2014 … SO FAR:
Protomartyr – Under Color Of Official Right
Deleted Scenes – Lithium Burn
OBN IIIs – Third Time To Harm
Plague Vender – Free To Eat
Ghetto Ghouls – Ghetto Ghouls
Cloud Nothings – Here And Nowhere Else
The Dead Space – Faker
Courtney Barnett – The Double EP: A Sea Of Split Pea
Priests – Bodies And Control And Power And Money
Together Pangea – Badillac
MIDWAY 2014 MIX:

:Cloud Nothings – Now Hear In:
:Together Pangea – Offer:
:Courtney Barnett – Avant Gardener:
:The Dead Space – Both Eyes:
:Deleted Scenes – Landfall:
:Protomartyr – Scum, Rise!:
:Ghetto Ghouls – Peepshow:
:Priests – New:
:OBN IIIs – No Time For The Blues:
:Plague Vendor – Black Sap Scriptures: