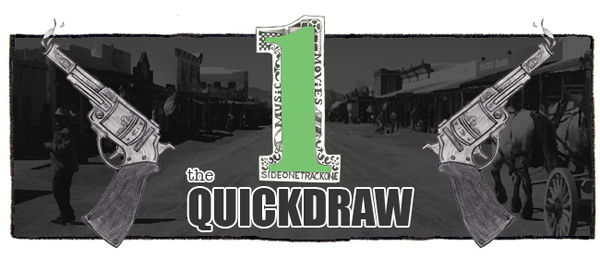 As promised, here's another 10 tracks that we missed while hibernating throughout December.  Starting tomorrow we resume normal posting, which should be fun.  Let's have a blast in 2014, friends.  Enjoy.
:The Dead Weather – Open Up (That's Enough):  Solo is a word I was hoping Jack White would be holding onto for the rest of time, but here he is back with The Dead Weather.  You know what though?  This track is awesomely heavy and I love it.  The Third Man subscription series is where you can find this song. No word yet on when a full length can be expected.
:Phantogram – Fall In Love:  I'm very much looking forward to Phantogram's upcoming full length.  It's been a long time coming, and I'm really hoping it manages to at least come close to what I'm unfairly expecting.  Voices is set to be released on February 18 via Barsuk.
:Tokyo Police Club – Argentina (Parts I, II, III):  One of the more pleasant surprises to come out of December was the return of Tokyo Police Club via this nearly nine-minute long prog pop gem.  It's good to have them back.  The band is expected to put out a full length at some point during the first part of this year.
:Abram Shook – Coastal:  Once upon a time Abram Shook was the vocalist of a band called The Great Nostalgic.  Now he's doing his own thing, and as this track indicates, it's stuff you need in your ears.  You'll be able to pick up Sun Marquee on January 21.
:Warpaint – Biggy:  While I think that Warpaint have a neat sound, this track is the first of theirs that I've legitimately wanted to spend some quality headphone time with.  It's superbly crafted.  Rough Trade will release the band's self titled effort on January 21.
:Tiger Waves – Weekends:  Really nice work here by Austin's Tiger Waves.  This catchy pop tune is easily one of their best songs.  The band has a single out now on Canvasback.
:Tele Novella – Umbrella At The Station:  Tele Novella got their start in Austin last year (out of the ashes of Agent Ribbons and Voxtrot), and they quickly impressed me.  I love their quirky pop sound.  At some point this year the band is expected to put out a debut full length.
:Damien Jurado – Silver Timothy:  A new Damien Jurado album is one of those things that should be celebrated by all.  The guy is a brilliant songwriter.  Brothers And Sisters Of The Eternal Son is due out January 21 via Secretly Canadian.
:The War On Drugs – Red Eyes:  I'd be a liar if I said I didn't think this was the best thing The War On Drugs have ever done.  Their upcoming album is now one I'm anxious to check out.  Lost In The Dream is due out March 18 through Secretly Canadian.
:Robert Ellis – Only Lies:  When it comes to artists currently making country music, Robert Ellis is as good as it gets.  I dare you to not love his voice and its thoroughly classic sound.  The Lights From The Chemical Plant will be available on February 11 via New West.