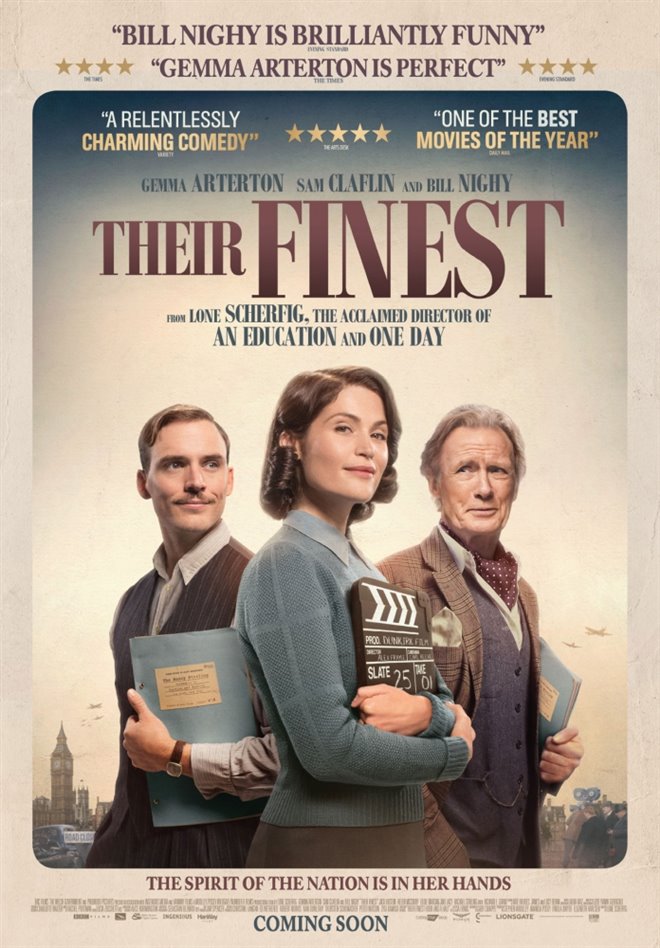 Pre-Screening Stance:
Once upon a time Lone Scherfig directed An Education, a movie that I still really love.  That's enough for me to be at least a little excited about her new flick.
Post-Screening Ramble:
Their Finest is a bit scatterbrained, but I liked it nonetheless.  The film takes place in Britain during WWII and it's centered around a pair of screenwriters, the sweet but determined Catrin (Gemma Arterton) and the dickish but fair Buckley (Sam Clafin), and their efforts to put together a propaganda film to help the country's morale.  Their mission is aided (or hampered, depending on the person) by Catrin's out of work husband Ellis (Jack Huston), the pompous actor Ambrose (Bill Nighy), and a whole host of other minor characters.
I'd love to give this film two thumbs up based solely on the its old school vibe, but then I'd be ducking its plot issues.  Unfortunately, director Lone Scherfig never seems too sure about what story she wants to tell.  Is the film about women's amazing efforts during the war?  Or how crazy it was to try and live during the Blitzkrieg?  Or film-making during the war?  Or is it a love story?  Well, it's pretty much all of those things, and while some of it works just fine with limited limelight, overall the film feels like butter scraped over too much bread.
Cluttered story issues aside, I actually think you should see Their Finest.  Maybe don't run off to the theater, but once it hits VOD, cue it up.  It features some nice performances and it has a genuine feel to it that's hard to not like.
One Last Thing:
I know it's really early in the year to say something like this, but I totally think that Bill Nighy should get a best supporting actor nod for his role in Their Finest.  He's so wonderfully ridiculous and charming in it.