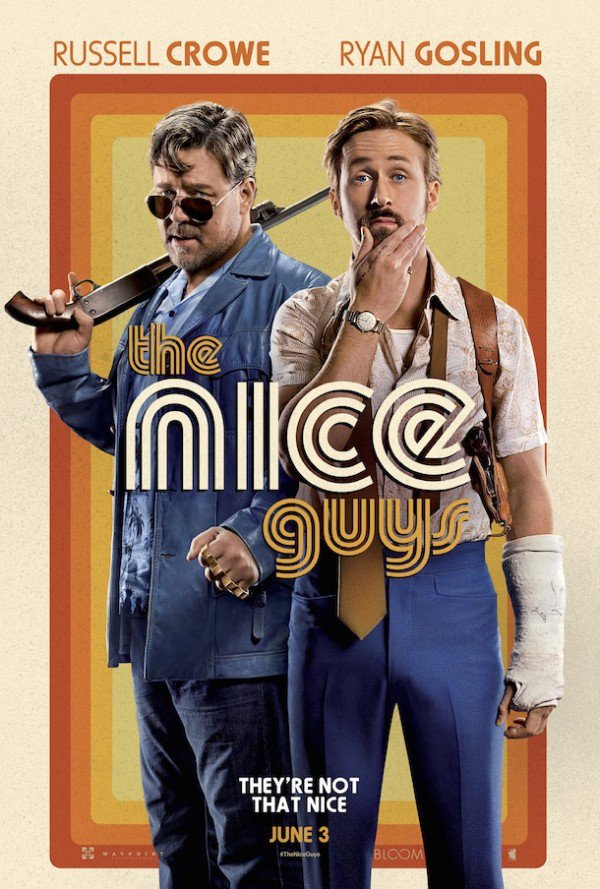 Pre-Screening Stance:
I'm excited for The Nice Guys.  Mostly because I love me some Shane Black.  Kiss Kiss Bang Bang, Lethal Weapon 1-3, The Monster Squad, Iron Man 3 – that's just a few of the great films he's written and/or directed over the years.  Oh, and Ryan Gosling and Russell Crowe are pretty talented, too.
Post-Screening Ramble:
It didn't click in my head until I was on my way home from the screening, but The Nice Guys is essentially a more accessible version of Inherent Vice (Paul Thomas Anderson's bizarro crime dramedy from 2014).  Set in the 70s, the film follows two equally talented private eyes who share a knack for screwing up – Jackson Healy (a rough and tumble Russell Crowe) and Holland March (a soft and charming Ryan Gosling) – as they attempt to find both a missing person and a supposedly dead pornstar.  Naturally, nothing is as it seems, and the two – along with Holland's daughter, Holly (played in wise-beyond-her-years fashion by Angourie Rice) – bumble about and cause a ruckus as they do their best to figure out exactly what the hell is going on.  Like one of writer/director Shane Black's previous films, Kiss Kiss Bang Bang, the plot twirls about repeatedly so that at some point you stop bothering with trying to figure it out (this makes the big reveal zanier, I guess) and you instead focus on the characters and their shenanigans.  For the most part it works, as the characters are all so likeable that you want to spend as much time with them as you can, but I will say this, there are some plot points that totally get lost and forgotten in the film's steady story shuffling.  Again, you may not care since you'll be laughing and having fun, but it's important to note that the film is shakily constructed underneath its good time outer coating.
Grab a beer and go see The Nice Guys, just don't be surprised if you poke a thousand holes in by the time you get home.
One Last Thought:
I know it's hard to look pretty when Ryan Gosling is your co-star, but Russell Crowe is fairly blimp-like in The Nice Guys, and it's not good.  Russell, if you're reading this, I forbid you to let yourself go all Marlon Brando on the world.