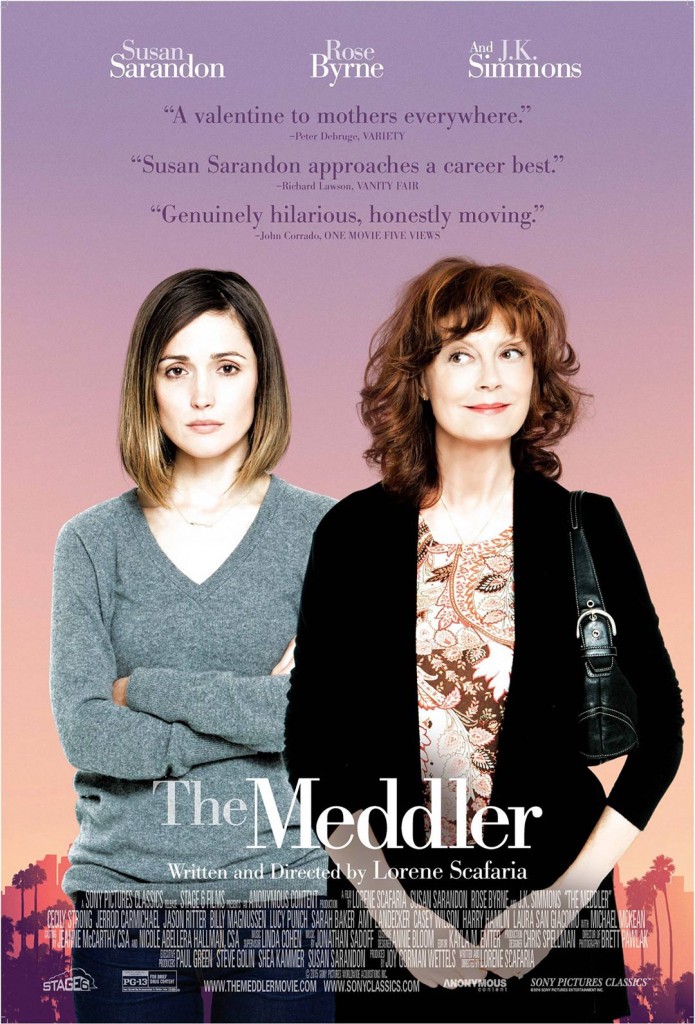 Pre-Screening Stance:
Despite having one of those this-is-surely-a-bad-romantic-comedy type titles, I have faith in The Meddler.  The cast is great – Susan Sarandon, Rose Byrne and J.K. Simmons – and I've liked a couple of writer/director Lorene Scafaria's previous films – Seeking A Friend For The End Of The World and Nick And Norah's Infinite Playlist.
Post-Screening Ramble:
The Meddler is a really endearing little film.  Marnie (Susan Sarandon in full-on charm mode) is a widow who has recently jumped from NYC to LA with the goal of being closer to her only child, Lori (Rose Byrne in full-on anxiety-riddled mode).  How sweet and wonderful, right?  Nope.  Marnie now only has Lori in her life, and because of this she's just about as overbearing as can be.  She calls constantly to check-in, she frequently pops by Lori's house unannounced, she hires Lori's therapist as her own, she sees and does stuff for Lori's friends without her.  It's all too much.  With that being said – and all of the credit here goes to writer/director Lorene Scafaria – Marnie's meddling is presented in a way where you can't help but feel sorry for her.  She's lost, unsure of how to cope with the death of her husband, and so she's fumbling about and trying really hard to do everything but get on with her own life.  It's truly a tough spot, one that's impossible to disregard in a "oh just get over it" kind of way, but thankfully Scafaria never lets Marnie's journey feel too heavy.  Sure, there are moments where you'll want to crawl into the screen and hug everyone, but the film has a great sense of humor, and once Zipper (J.K. Simmons also in full-on charm mode) comes around and connects with Marnie, you'll find yourself feeling all warm, mushy and confident that everything is going to be OK.
You should consider trading this weekend's CG craziness for a big helping of heart via The Meddler.
One Last Thought:
Rose Byrne has become one of my favorite actresses.  She totally owns every role that she lands, and I appreciate that.  Also, it's kind of crazy that by next Friday (May 20), you'll be able to go to the theater and see her in three very different films – The Meddler, X-Men: Apocalypse and Neighbors 2: Sorority Rising.  Go Rose Go!