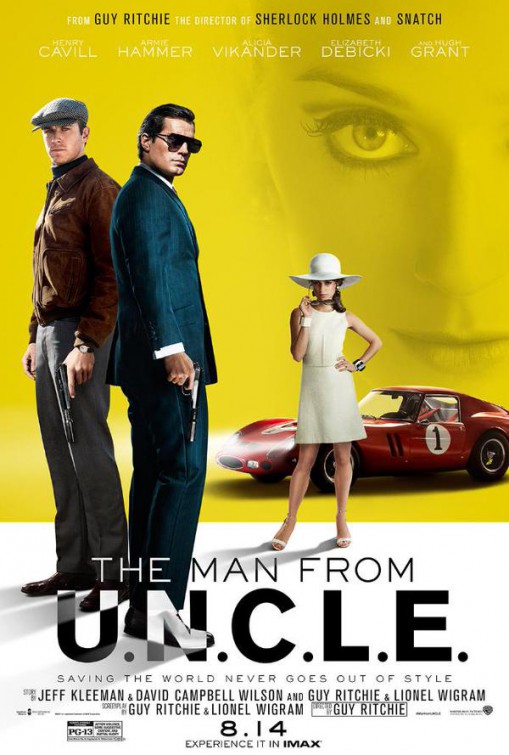 The Impression:
Guy Ritchie, post-crime-flicks and post-Swept-Away has actually developed into a consistently entertaining, stylish director. I look forward to his films. And with this one starring Alicia Vikander (Ex Machina) and two slabs of rock chiseled into the shape of men, I'm borderline excited.
The Reality:
If you're looking for subtext and strong character development and a plot that's full of twists and turns – go watch one of Mendes' Bond flicks. But, if you want a bunch of very attractive people playing some solid spy archetypes over a fantastically stylish pastiche of a whole bunch of the best of the 60s spy films? Well then my anonymous friends, this is the film for you. Over his last three movies Guy Ritchie has ably managed to tweak his filmic style away from, at times, unwatchable and hyperkinetic, down to something more akin to his early work. The Man From U.N.C.L.E. doesn't shy away from style – in all honesty, it's pretty much a very well done exercise in visual aesthetics – but also allows Armie Hammer, Henry Cavill, and Alicia Vikander to revel in the uber-cool silliness of their stock spy characters. Cavill plays Napoleon Solo, a former thief and now, super-American spy who's tasked with partnering up with K.G.B. behemoth Illya (Mr. Hammer) to find and protect Gabby Heller (Alicia Vikander), the daughter of a nuclear physicist. In short, things happen, bad guys appear, so on and so forth – but mostly, the three leads get to embody the very essence of bad-ass 60s spy. Hammer, though saddled with a Russian accent, plays a giant of a man with a pained interior with gusto though I wished we could've actually seen the violent rage that they merely hinted at. Cavill's Solo is the very best kind of one note, pearly-smiled cardboard cutout that Ritchie bounces scenario after scenario against, slowly revealing the edges of his character. I've been curious about Cavill since Man of Steel, and after seeing his edgy charm in this film, I'm curious to see what's next. Vikander is the best of the lot, the sort of girl next door character (if the girl next door was an extremely attractive Hollywood actress) that fits right in with the statues she calls male co-leads. Aside from acting though, this is Ritchie's film, a beautifully slammed together mish-mash of style that feels like Tarantino-lite. No stylistic device is unused – split scenes, tracking shots, huge over-the-top crane shots, etc. – and somehow, it never feels oversaturated. What Ritchie does best though is music, gracefully soundtracking the film with a barrage of obscure, and not so obscure, 60s hits that create the backbone and the rhythm for which it moves. Songs start and stop as the action progresses, and more than once I felt the need to pump my fist as a song roared back to life. This isn't Tinker, Tailor, Soldier, Spy, hell, it isn't even Mission Impossible, but it's fun, and after a summer of stupid blockbusters that hit my brain like a napkin full of wet bird shit, dumb fun done well, was just what I needed.
The Lesson:
I'm giving Ritchie some serious credit here for turning his shit around, but don't get me wrong, all of this credit will come crashing to the ground post-King Arthur.