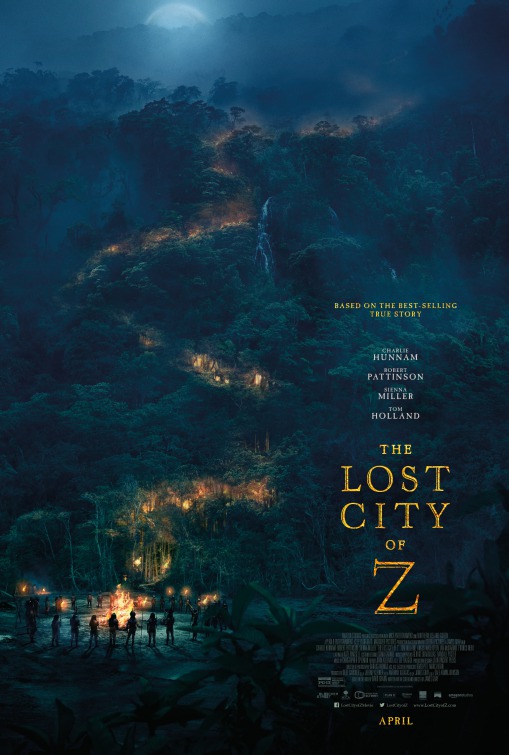 Pre-Screening Stance:
Theaters are currently loaded with The Fate Of The Furious, Ghost In The Shell, Power Rangers and the like, so I have no idea who Bleecker Street is expecting to run and out see The Lost City Of Z, a heavy-looking two and a half hour film about a fella stumbling around in the jungle.  With that being said, I'm excited for it.
Post-Screening Ramble:
The Lost City Of Z takes place in the early 1900s, and it tells the tale of Percy Fawcett (Charlie Hunnam), a real life British explorer who made various trips to South America in search of a lost civilization.  Well, he eventually gets to looking for ancient stuff, but first he just goes to help draw borders for a couple of countries on the verge of war.  It's then that he discovers some busted pottery and decides that there's no way such things could randomly be way out in the jungle on their own.  This leads Fawcett to forever trying to convince his countrymen and others that there are great discoveries to be had in the Amazon.
I enjoyed this film.  It's patient, wonderfully shot, interesting and well acted.  However, The Lost City Of Z is definitely one of those efforts that teeters on the edge of pretentiousness, so someone could easily flip that and say that the movie is a slow, thick affair that's not particularly accessible.  In other words, only head to the theater for this one if you feel as though your patience won't bow out on you halfway through its heftiness.
One Last Thing:
Remember way back when Charlie Hunnam was all set to star in those 50 Shades Of Grey flicks?  What a bullet he dodged there.  On the flip side of that, I actually feel as though he would have elevated those films.  Probably not to a point where they would have been "good" or whatever, but he definitely would have made them more entertaining.  The guy is a legit talent.