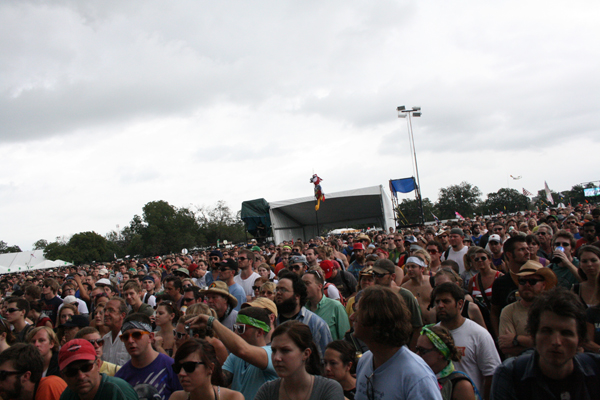 Oh, ACL. You were such fun! I got to see so many great bands, and hang out with a tipsy John Laird – what could be better?
The best of lists have been posted long ago, but due to the every two weekish (sorry John!) nature of this column, I'm a little behind. Instead of writing about bands, I'm gonna write about songs. Here are my top three favorite songs that I saw performed at ACL.
:Tegan And Sara – Walking With A Ghost:  The minute these energetic ladies hit the stage, they burst into this song. Walking With A Ghost regularly battles with Nineteen as my favorite T&S song, and they played both, but this song is just so much better suited to a live show. It's a powerful sounding indie rock tune that begs for a sing-along sesh. And as long as you're singing along, you might as well just air guitar this entire song, home alone, in your pjs. Not that I've ever done that.
:Rufus Wainwright – The Art Teacher:  I think this was the most poignant moment of the festival for me. The solo piano is an excellent accompaniment to Wainwright's incredibly rich voice. Listening to Rufus Wainwright always feels to me like eating an indulgent, creamy dessert. Although I've never been in love with a teacher before, the song is easily applicable to any first-love situation. Or you can just tune out the lyrics and relax into the smooth keys.
:Stars – We Don't Want Your Body:  Before you relax too much, have a dance party to this song. The entire crowd for Stars at ACL certainly did! The dual vocals on this song provide a badass contrast, and the upbeat synth line masks some seriously dark lyrics. It's an anthem for the good girls and boys – and we've all been in the position of getting bummed out on someone. It's signature Stars complexity, but doubles as a party jam!