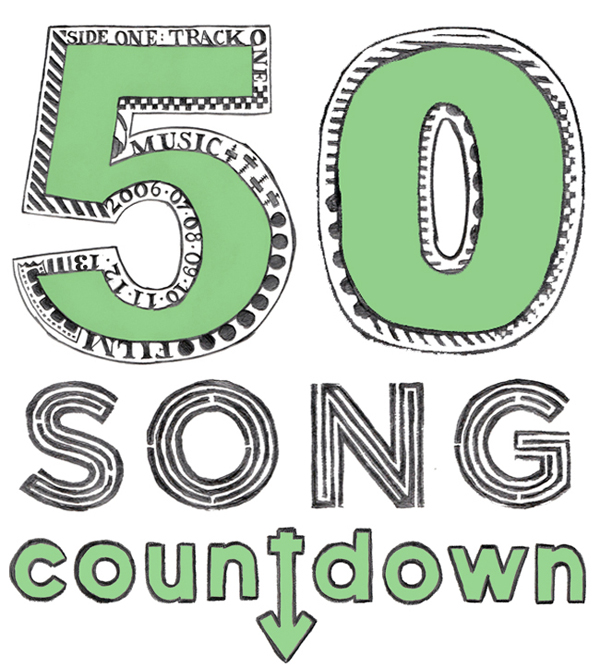 We're now down to the final 20 songs!  Ah!  Enjoy.
20)  :Minks – Margot:  I know some folks weren't a fan of Minks cleaning up their sound, but I thought it was an alright move.  This song in particular is great and reminds me of early 2000s indie pop.  From Tides End.
19)  :Okkervil River – It Was My Season:  As I said when this made my Austin Essentials list, it's that one song Okkervil River seem to have on every album that I can't get enough of.  From The Silver Gymnasium.
18)  :Parquet Courts – You've Got Me Wonderin' Now:  To be honest, I totally didn't get all the love for Parquet Courts until this song came along.  I appreciate its adequate amount of snarl.  From the Tally All The Things That You Broke EP.
17)  :A Giant Dog – All I Wanted:  Austin's finest pop punk band is A Giant Dog, and I think this is their best song.  It rocks and does well to show off Sabrina Ellis' stellar voice.  From Bone.
16)  :Wavves – Demon To Lean On:  I didn't at all think Wavves would ever turn into a 90s-esque alt-rock band, but here they are doing it and doing it well.  I approve.  From Afraid Of Heights.
15)  :White Denim – At Night In Dreams:  The heaviest song on White Denim's 2013 effort is also my favorite from it.  I don't know how many times I've tried to blow out my speakers via this track.  From Corsicana Lemonade.
14)  :Swearin' – Watered Down:  I love any sort of indie rock that feels lifted out of the 90s, so I was hooked on this pretty much immediately.  Be warned, Swearin' will make you want to dig up tons of old records.    From Surfing Strange.
13)  :Four Fists – MMMMMHMMMMM:  POS and Astronautalis as one act?  Yes.  Forever.  If we're lucky, this rad track is just the beginning of something awesome.  From Four Fists' self titled 7″ single.
12)  :Polica – Chain My Name:  Earlier this year I couldn't wait to get a hold of Polica's sophomore effort, and it was largely because of this track.  It's super dancey and completely set on never leaving your head.  From Shulamith.
11)  :Courtney Barnett – Avant Gardener:  This wordy number from Courtney Barnett was a favorite of mine before I was even done listening to it for the first time.  She's a fantastic storyteller.  From the A Sea Of Split Peas EP.