See, here's the thing. I am consistently several years behind on music. I try keeping up, but I never seem to like any albums until they have been out for a long time. And I tried explaining this to John; I tried telling him that the only things I listened to this year were Patti Smith and Black Flag and Nicki Minaj.
And I went to this Sufjan Christmas show at Emo's, and it was amazing, and … well … his latest Christmas collection is made up of 5 EPs. And honestly, they are probably my top 5 albums of 2012. I know this may seem like cheating, but otherwise I don't really have 5 albums that I have consistently listened to this year that were released this year. So, here it goes: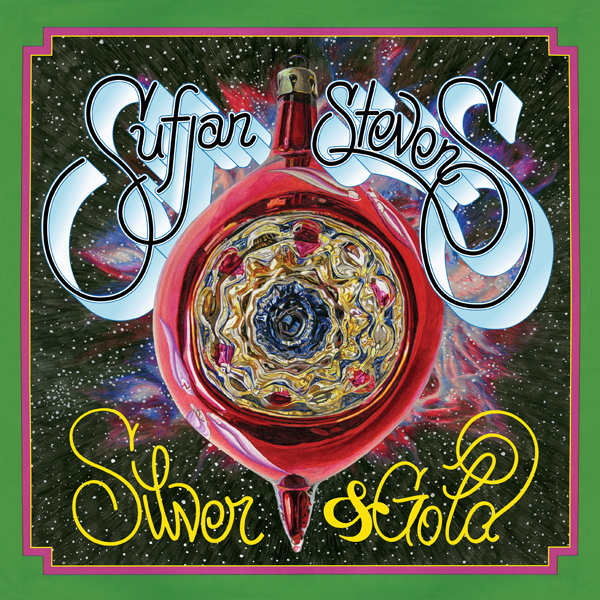 5. Let It Snow: Songs For Christmas, Vol. IX
It feels like the sappy ending to a 1950s movie when Sufjan tells us that I'll Be Home For Christmas in a grandly orchestrated way. Cat Martino's crystal clear voice is put to excellent use on The Sleigh In The Moon, which feels like a floating trip to the great evergreens above, yet somehow retains an oddly traditional sound. Martino pops up again for a wonderful Ave Maria that stays largely true to the original spirit. Sleigh Ride starts out almost country, but devolves once again into an odd electronic medley. There are definite weak points on this album, but X-Mas Spirit Catcher is not one of them; although I would like it better with slightly different percussion, it feels very tradition Sufjan, and the repetitive and layered vocals towards the end make the listener feel as if they are getting wrapped up in a holiday present.
:Sufjan Stevens – X-Mas Spirit Catcher:
4. I Am Santa's Helper: Songs For Christmas, Vol. VII
I don't usually associate Christmas and jungles, but somehow Sufjan's track Christmas Woman makes me feel like Santa is salsa-ing through the Amazon. It's a dance party itself. Sufjan does a pretty incredible chorale style Break Forth O Beauteous Heavenly Light. Happy Family Christmas is another silly dance jam that almost seems better suited to a kids album, and then Jingle Bells actually utilizes children, but also gets a bit of a rock n roll edge. The track list for this one is by far the longest, but other favorites include Behold The Birth Of Man, The Face Of Glory, and Mysteries Of The Christmas Mist, two instrumentals that feel nothing short of ethereal. The record ends with Even The Earth Will Perish And The Universe Give Way, another instrumental that sounds like what I imagine holding the moon would feel like.
:Sufjan Stevens – Mysteries Of The Christmas Mist:
3. Christmas Infinity Voyage: Songs For Christmas, Vol. VIII
Sufjan's reworked Angels We Have Heard On High starts the album off on a brilliant foot. That man uses banjos to make the most wondrous sounds! This album features Sufjan's first dips into synth jams, leading with one of the weirdest moments of the album, the intensely electronic Do You Hear What I Hear?, that feels almost Daft Punk. Christmas In The Room is a love song that has brought me to tears; a quiet declaration of adoration that provides gems like "I'll dance with you / I'll laugh with you / Until it's Christmas in the room." An excellent Prince cover of Alphabet Street lends a fun vibe for a moment, but the somber-then-odd typical Sufjan vibe closes out the EP with the 15 minute long The Child With The Star On His Head. The electronic spike may turn some off midway through, but it's worth the continued listen to ride the roller coaster of sounds that entails.
:Sufjan Stevens – Christmas In The Room:
2. Christmas Unicorn: Songs For Christmas, Vol. X
Have Yourself A Merry Little Christmas has never sounded so stoner, but in an excellent, laid back way. The arrangement of Up On The Housetop seems almost hip-hop, but in a way that is more fun than cheesy. Angels We Have Heard On High reappears (it's on an earlier EP that I have below since it's ranked higher in my mind), this time as an instrumental that does not impress as much. Happy Karma Christmas is a slow burner that grows on one after multiple listens, and would not have seemed out of place on Age of Adz. The majority of the album isn't that remarkable, but the last two songs are the saving grace. Justice Delivers Its Gift is an incredibly beautiful track, both instrumentally and lyrically. The entire song feels like a Christmas dream, a deep questioning from Sufjan that culminates in a repeated Silver and Gold; and all the sudden that phrase is heavy with meaning. Christmas Unicorn, on the other hand, is one big old silly love fest, with some gentle ribbing towards America and religion. It's an anthem for my generation; although it harkens back to an older generations with the absolutely inspired jaunt into Joy Division's Love Will Tear Us Apart. I will be extremely disappointed if this song is not in the alternative Christmas canon in ten years, a la Christmas In Hollis.
:Sufjan Stevens – Justice Delivers Its Gift:
1. Gloria: Songs For Christmas, Vol. VI
This is the first EP of the collection, and it starts off with a fairly traditional rendition of classic Christmas carol Silent Night. Immediately after, things get kicked into Sufjan style with the upbeat, tongue in cheek standout track Lumberjack Christmas / No One Can Save You From Christmases Past. But I think my favorite is the seven-minute Barcarola (You Must Be A Christmas Tree), which feels like it could have been at home on Sufjan's record Avalanche. Indeed, the opening vocals of "ohh" immediately reminded me of the beginning of Sleeping Bear, Sault Saint Marie. It's a lazy, simple beginning that showcases Sufjan's incredibly emotive vocals. Further instrumentation comes in for a minstrel-ish touch, and he delivers perhaps my favorite line of the entire collection; "You must be a Christmas tree / You light up the room."
:Sufjan Stevens – Barcarola (You Must Be A Christmas Tree):