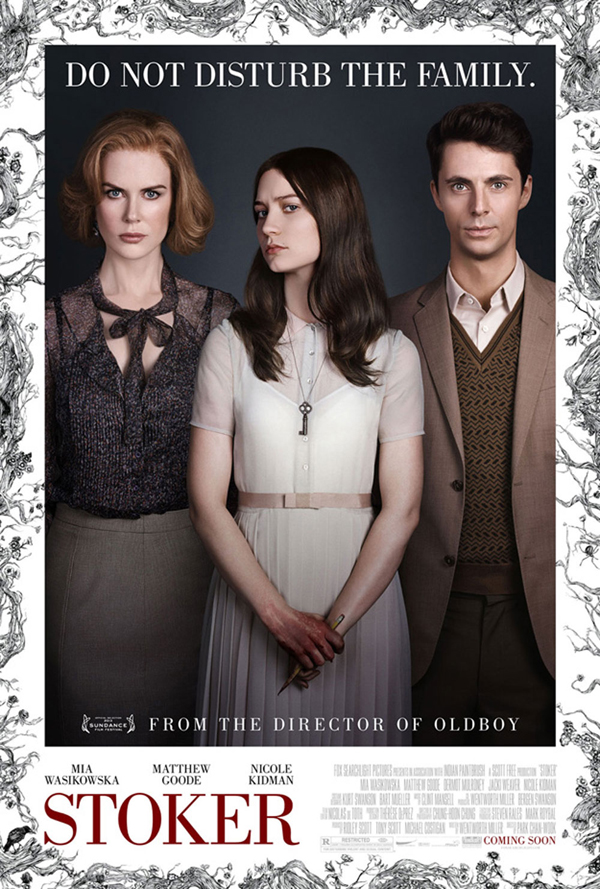 The Impression:
Stoker is the debut from Korean super-director Chan-wook Park (Old Boy, Thirst) and as much as I'm excited to see someone as interesting and depraved make the jump across the pond, the Hollywood grind is rough on foreign directors and I worry that Mr. Park will lose his voice in the process.
The Reality:
Stoker is a very strange, very atmospheric, very beautiful film that almost entirely works. India Stoker (Mia Wasikowska) has lost her father in a terrible car accident, leaving her to the machinations of her sex-pot mother (Nicole Kidman) and the recently arrived, and very creepy, Uncle Charles (Matthew Goode). From the get go, things aren't right in the house of Stoker, Kidman's Evelyn seems only barely affected by the death of her husband, and the father of her child, and has untoward interest in the deceased's brother. Uncle Charles seems like a borderline sociopath with just a little too much interest in his blood relation. This is, for the most part, the coming-of-age story of India Stoker, and Park realizes this, teasing out the sexual awakening of Miss Stoker as a parallel to the other, more murderous urges she might discover. It's a tangled web he weaves, all near-incest, and nearer-murder and at times it feels like the structure of the story gets lost in Park's desire for beautiful shots and even more beautiful compositions. And on that front Stoker soars; this is a gorgeous film. Every piece of furniture, every outfit, every edit is chosen for utmost beauty and looking away for a moment is your loss. Does the soulless world of Hollywood dampen Park's star? No. This is 100 percent the work of the director, for better or worse, and I wonder if American audiences will be able to gel with the loose narrative structure Park imposes on the film. Regardless, it's a strong first outing for the director, and hopefully not his last.
The Lesson:
Hollywood doesn't make automatons out of each and every director who makes there way from a foreign land. Phew.