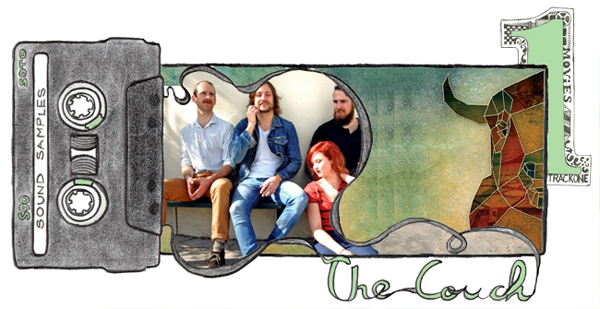 Sound Samples is a SOTO feature meant to provide some insight on what inspired and/or influenced an artist's latest release. Today's entry comes from Austin's The Couch, who have quickly become one of the city's buzz acts.  You can pick up their self titled album now (it came out late last year) here, and like them on Facebook here.
The band decided to each provide a section of influences, and first up is Taylor.
Taylor Wilkins's Samples
Its hard for me to say what I really wanted out of our self titled album when we were recording it because it was three months after we had written most of the songs, with the exception of Kick The Can and Aphrodite.  I do know that I wanted to have an album that had a lot of different sounds and textures than the Couch had previously used. A lot of that had to do with adding a lot more organ, acoustic guitar, auxiliary percussion, and backing vocals, but the biggest change was probably the addition of Sara as a lead singer and songwriter.
Some of my favorite rock bands such as Heartless Bastards, Yeah Yeah Yeahs, and Dead Weather have female leads, and when Sara started playing and writing more material and sharing it with me, the idea that we could use those songs became a reality. As most major changes are, the transition had its difficulties, but I think we all knew once people could wrap their head around the idea of have dual female/male lead, then they could appreciate this album as an eclectic group of songs that demonstrates all our individual love for different kinds of music and sounds.
I chose The Walkmen's In The New Year because I absolutely love the intensity of the lead vocals and how the organs/drums crash together.
:The Walkmen – In The New Year:
White Denim's Transparency always struck me as great song that was recorded with a lot of awesome techniques and really unique parts, which is how I wanted some parts of this album to sound.
:White Denim – Transparency:
Dr. Dog's These Days has a great crunchy guitar tone melody and fantastic groove, which were all aspects of this album that I really wanted to exemplify.
:Dr. Dog – These Days:
Sara Houser's Samples
The Kills' Midnight Boom and The Dead Weather albums were in heavy rotation around the time I started writing the songs that would end up on this record. Allison Mosshart has a really cool quality to her voice that both cuts through but also blends really well. I picked Treat Me Like Your Mother because it captures a number of influences – dirty distorted organ tone, biting lyrics, dual singers.
:The Dead Weather – Treat Me Like Your Mother:
Another album I really dove into was The Pixies' Surfer Rosa. Great boy/girl dynamic vocally. I also love the driving punk rhythm in songs like Something Against You and Broken Face.
:The Pixies – Break My Body:
The Couch album was really my first foray into writing a "rock" record, and I think going into it I was still trying to find a way to fit my voice into this new setting. I do my best to absorb some grit from singers like Mosshart and Kim Deal, but I also listen to a lot of Feist and St. Vincent. Annie Clark's delicate timbre over fuzzed out guitar sounds so cool to me, and I really didn't want to miss out on that juxtaposition on this record.
:St. Vincent – Actor Out Of Work:
Nick Josiwick's Samples
The first time I ever witnessed the Couch play live a few years ago, I was immediately reminded of Led Zeppelin. Everything from the rock hard hitting drums, to the super solid groove and bass lines, all coupled and brought together with face melting leads and vocal intensity and conviction, it was a high energy show that I knew I wanted to be a part of. So fast forward a few years later, and I am actually sitting in my studio with the Couch getting ready to track their most recent album (a moment I couldn't have be happier about!). We had all done our homework and pre-production and knew what we wanted and how to go about making the album, so we were all very excited and ready. In my role as engineer/producer, there were a few records that I had to go listen to to formulate my ideas on how we would track/mix/everything. One of those records was most definitely Led Zeppelin IV. The music we were about to record was just so reminiscent of that era rock and roll, how could I not?
:Led Zeppelin – Rock And Roll:
Another record I had to listen to again was Queens Of The Stone Age's Songs For The Deaf. I've always been a fan of QOTSA and their production value/sound, so I felt like a marriage of IV +Deaf would be a cool representation to try and capture for the Couch.
:Queens Of The Stone Age – No One Knows:
And one last record I just had to revisit was Fits by White Denim. It's such a raw and powerful album, I felt like some of its influence on what we were trying to accomplish would be fitting.
:White Denim – I Start To Run:
Jud Johnson's Samples
I've never been ashamed to bump Robyn's music or messages. I had been enjoying her album Body Talk and trying to get my friends to do the same for a long time. The day before going in to do day one of recording the album, Sara and I went to see Robyn and that woman's professionalism and performance set a standard I hope to achieve one day. Gotta be able to play with the click because Robyn does and she's the boss.
:Robyn – Get Myself Together:
Also, this album is great. …  Fiona Apple – The Idler Wheel Is Wiser Than the Driver of the Screw and Whipping Cords Will Serve You More Than Ropes Will Ever Do