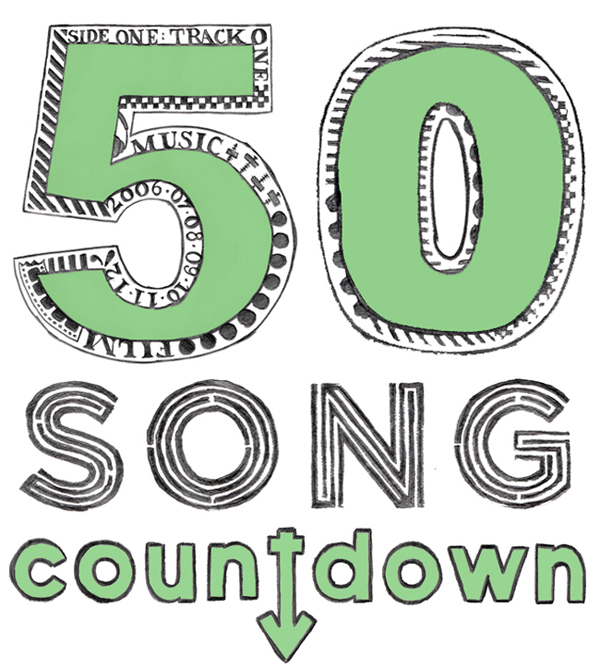 You know who loves a good list?  Every single one of you.  Now get on with checking out the second part of my Top 50 Songs Of 2012.  In case you're curious, I chose the songs from the 400+ tracks that I shared around here throughout the last 11 months.  Enjoy.
40)  :Passion Pit – I'll Be Alright:  I'm still not sure what Passion Pit were aiming for on their sophomore effort, but I dig this track a lot.  I think it shows how adventurous their sound can be.  From Gossamer.
39)  :Why? – Sod In The Seed:  Just when I thought that Yoni Wolf was done with his collage-like rambles, he provided nearly five minutes of lyric-heavy joy via this song.  That guy has a wonderful brain.  From the Sod In The Seed EP.
38)  :Beach House – Myth:  I don't know how many times I've listened to this song just to listen to it.  Not much else in 2012 was as well crafted as this.  From Bloom.
37)  :Dana Falconberry – Lake Charlevoix:  I've long supported Austin's Dana Falconberry, but this song put her on a different level for me.  Folk music is often not overly accessible, but it is when she does it.  From Leelanau.
36)  :Alabama Shakes – Hold On:  The year began with nothing but buzz for this band, and somehow it all actually ended up being warranted.  Way to go, taste-makers.  This song is an outright jam.  From Boys & Girls.
35)  :Dirty Projectors – Gun Has No Trigger:  I love that the Dirty Projectors just do whatever they please.  How many other bands could release such a challenging single and actually have it go well for them?  From Swing Lo Magellan.
34)  :Bobby Womack – Please Forgive Me Heart:  Bobby's soulful voice thrown over a modern electronic arrangement?  Such a thing seems like it should be all wrong, but then there's this gem screaming otherwise.  From The Bravest Man In The Universe.
33)  :Jack White – Love Interruption:  It was nice of Jack to finally go solo, and it was even nicer of him to make his first single such a quality piece of modern rock.  From Blunderbuss.
32)  :Social Studies – Terracur:  Social Studies was always one of those acts that I knew about and liked, but didn't love.  This inspired tune changed that.  Forever.  From Developer.
31)  :The Tallest Man On Earth – 1904:  Kristian Matsson is a fantastic songwriter, and this inviting number is just further proof of that.  It's only a matter of time before I just hang out with him all the time on a mountain.  From There's No Leaving Now.