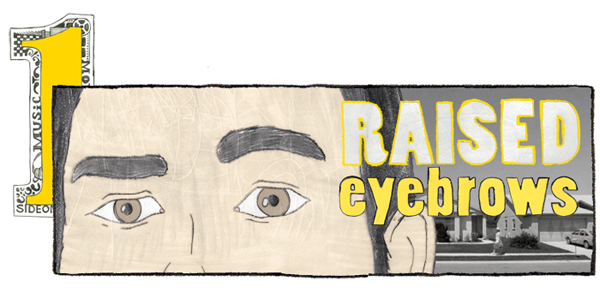 My monthly nostalgia trip continues on.  Last month I reflected on Sonny Sharrock's Ask The Ages, and now it's Skip Spence's magnetic 1969 album Oar.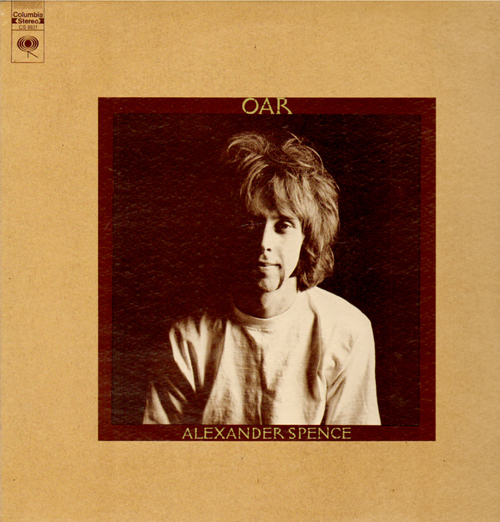 It was my first tour ever as a "real" musician. I was excited and nervous to be traveling along with a couple of bands as their opening act. We'd be doing gigs beginning in Philadelphia and ending in Tennessee. I took the Greyhound one way from Austin to Philly for $70. It took a couple days to get there and ended up being one of those coming of age kind of deals, as you'd expect.
We were getting to the end of our run when we did an in-store at Gate City Noise (RIP) in Greensboro, NC. We spent most of the day buying records and one that I purchased was Skip Spence's Oar.
The next day in the car, we put on Oar and the sky opened up upon the first notes of Diana. It's ragged rhythms and painful vocals pulled us in and took our coats. The free improv aspects of this red-eyed soul number never fail to amaze and keeps you guessing as to where 'ol Skip's gonna land.
By the time we got to Weighted Down (The Prison Song), I found myself wondering if the song was recorded at the wrong speed. The tune itself is one of the strongest on the album, an abstract country masterpiece that sits well alongside Leon Payne's Psycho and Porter Wagoner's The Rubber Room.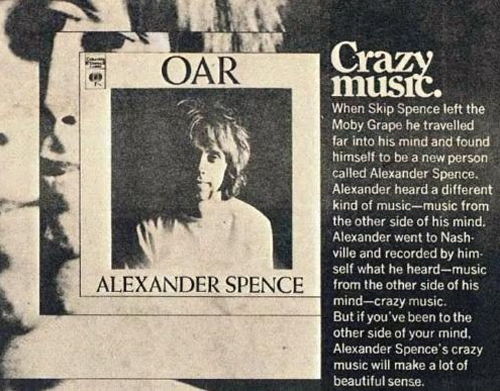 War In Peace followed and stands as a personal favorite on this way out classic. It's the ghost sound of Moby Grape, perhaps a foggier take on the songwriting ideas of the MG track Seeing. Speculation aside, the beautifully stoned vibe struck a chord in me that day. It can be a little off putting especially when the riff to Sunshine of Your Love is thrown in around the three-minute mark, but if I was in a Nashville recording studio right out of the crazy house with nothing but a motorcycle and the pajamas on my back, I'd do whatever the hell I wanted to too.
I still remember driving down I-40 when Books of Moses came railing out the speakers. It was shocking for some reason. Spence's voice had this biblical tone to it. You pair that with the sound of hammered nails and thunderstorms and you got this holy kind of thing going on in your mind. There's a sacred environment created within the song that falls right in line with the divinity of Blind Willie Johnson's Dark was the Night, Cold was the Ground.
I continue to listen to this record. Not because it was made by a guy who just got out of Bellevue or because it was once the worst selling album Columbia ever released, but rather because it's free range innocence speaks to my own experiences of that first tour and all that went along with it. There's a lot of being that comes with quarter life that stays with you long after that person is no longer you anymore. Oar incorporates all that into something both meaningful and meaningless. Not bad for a bunch of so called demos.