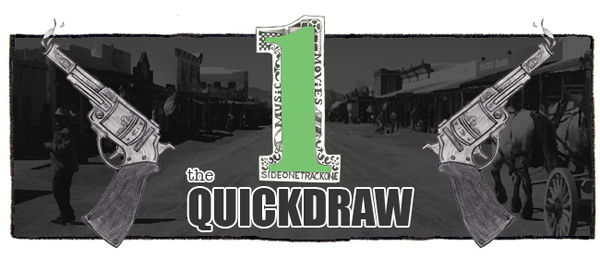 Today you get a rare Thursday Quickdraw.  Enjoy.
:Club 8 – Stop Taking My Time:  I knew this Swedish duo had been around for a while, but I didn't realize that they had put out so many albums.  The upcoming Above The City (out May 21 via Labrador) will be their eighth release!  And they still sound so young and energetic!  It's crazy.
:Majical Cloudz – Childhood's End:  I think a lot of you are really going to like this track.  Devon Welsh has just an absolutely enchanting voice, and the minimalistic arrangement here does everything in its power to highlight that.  I recommend headphones.  Impersonator is out May 21 via Matador.  Catch the band at the Mohawk with Youth Lagoon on April 24.
:Savages – She Will:  All I've heard since SXSW wrapped is that Savages were rad.  I honestly don't even know much about the band, but I can believe all the talk.  I mean, just listen to this attention commanding track – it seriously rocks.  Silence Yourself is expected May 7 via Matador.
:Sir Sly – Gold:  This song is totally a guilty pleasure for me.  It's a largely cheesy effort from top to bottom and, as you'd probably expect, it's really good at getting lodged in your head.  The Ghost 7″ single is currently available.  Sir Sly will play the Mohawk on April 27.
:Junip – Your Life, Your Call:  In case you don't know, Junip is made up of Jose Gonzalez, Elias Araya, and Tobias Winterkorn.  On April 23 they'll release their new self titled full length via Mute, and I imagine that it will end up being one of the best sounding efforts of 2013.