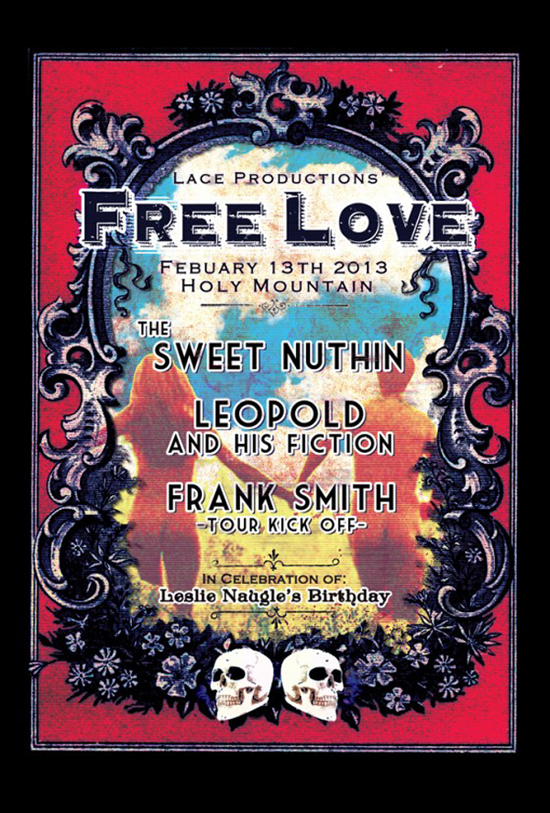 Shakespeare wrote in Twelfh Night, "If music be the food of love, play on."  This Valentine's Day, I'm going to attempt to heed the Bard's advice by feeding my love for music.  Tonight, there is a free show at Holy Mountain called Free Love, which features three local bands to get your heart pumping: Frank Smith, Leopold And His Fiction, and The Sweet Nuthin.
The Sweet Nuthin close the night with their grit meets glam brand of rock n' roll; they also share a bit of love advice in their new song, All In – "sometimes you got to take a chance/sometimes you got to give romance a try/even though it's goin' to die." If you can't see them tonight, you have a second chance on Friday night at Swan Dive when they pair up with their friends, The Happen-Ins. Plenty of good, sweaty rock n' roll to celebrate your new-found romance and/or soothe your broken heart.
—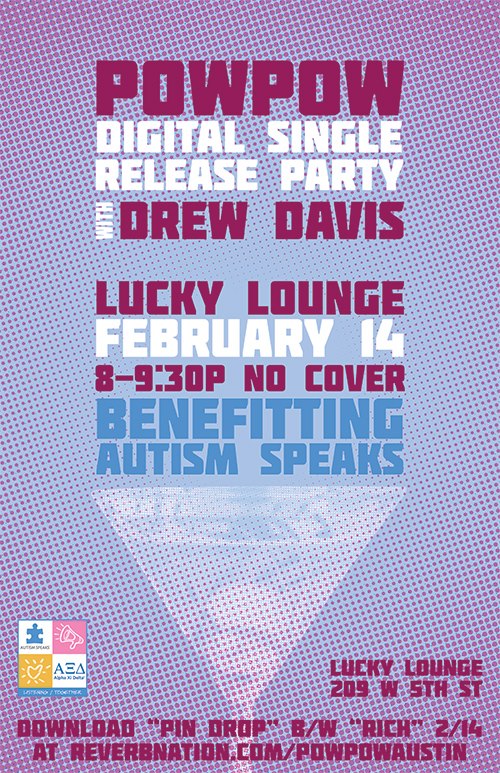 On Valentine's Day, you can also show some heart by downloading PowPow's new single, Pin Drop (b/w Rich) here. The release benefits the charity Half The Sky. The generous cherry on top is if you attend their release party tomorrow at Lucky Lounge, 10% of the bar proceeds will benefit the charity Autism Speaks. It's an early show (8-9:30 pm) and food will be provided too. Here's another musical sweet treat from this local indie pop duo:
—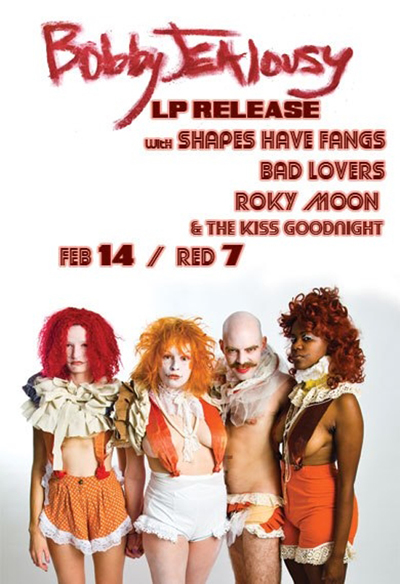 I must confess that I'm really excited for the Valentine's Day event featuring Bobby Jealousy, where they are celebrating the release of their 2nd album, The Importance Of Being Jealous. 2012 was a busy year for them, they released their debut album, A Little Death, toured, underwent some lineup changes, as well as writing and recording the new album. Bobby Jealousy is a pop band but this is not throwaway pop; this is pop that grabs you and demands to be heard and shared. I've heard a few of the new songs and you can hear their signature mix of musical styles ranging from glam punk to country ballads. I like to describe the band as "seriously fun" – the songwriting is top notch and as a live band, they're incredibly fun, engaging, and know how to put on a show.
Get your weekend started at Red 7 – Bobby Jealousy are joined by some of their favorite local bands, Roky Moon And The Goodnight, The Bad Lovers, and Shapes Have Fangs.  Let Bobby Jealousy be your Valentine this year; I promise that they will sweep you off your feet. If you already have a valentine, then pick up a copy of The Importance Of Being Jealous; it's much sweeter than a box of chocolates and will last longer than a dozen roses.