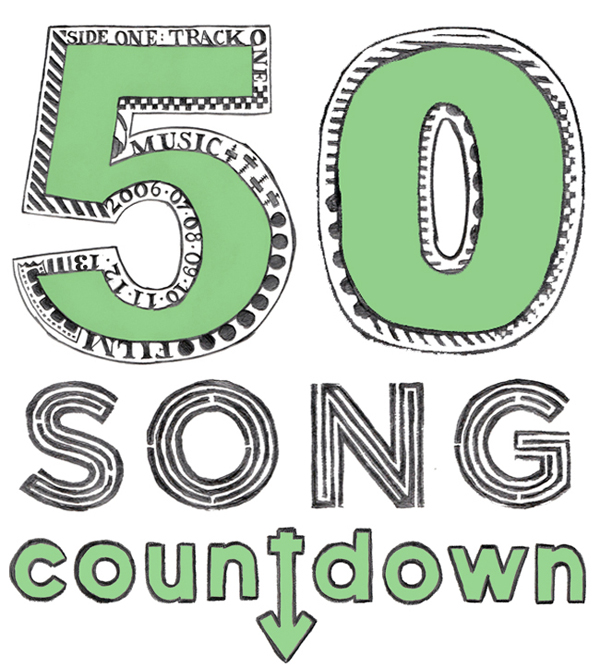 Well, this is the end of it.  Feel free to comment and mention anything I may have missed.  Otherwise, take in all the songs, and then join me next Wednesday through Friday for my Top 25 Albums of 2013.  Enjoy.
PS – You can check out 47 of the 50 tracks on this list on Spotify here.
10)  :Jonny Fritz – Ain't It Your Birthday:  If I were doing a list of the year's most fun songs, there's a good chance I would slap this in the #1 spot.  Jonny Fritz is a rad dude.  From Dad Country.
09)  :Veronica Falls – Buried Alive:  This song is so hopelessly romantic.  And well made.  And catchy.  And just awesome.  I've actually listened to it so much that I'm surprised I didn't burn myself out on it.  From Waiting For Something To Happen.
08)  :Quasi – You Can Stay But You Gotta Go:  The return of Quasi was fronted by this wonderfully sloppy 90s-ish indie rock track.  It deserves to be played at a volume that might get you evicted.  From Mole City.
07)  :Ellie Goulding – Tessellate (Alt-J Cover):  This is actually the second year in a row that Ellie Goulding has landed a one-off cover in the top 10 of my song list.  If you ask me, that probably means she should hurry up and do a covers album.
06)  :Haim – The Wire:  I know everyone digs Falling, but this is the song that made me appreciate/love Haim.  It's like Shania Twain meets arena rock, which is weird but apparently what I've always wanted.  From Days Are Gone.
05)  :Diarrhea Planet – Separations:  Yes, the name Diarrhea Planet is silly.  Now with that out of the way, please allow this song to rock your soul.  From I'm Rich Beyond Your Wildest Dreams.
04)  :Yuck – Middle Sea:  Yuck lost a frontman and then just continued on like it was nothing.  That's impressive.  I think this is one of the best songs in their catalog.  From Glow And Behold.
03)  :Chvrches – Recover:  The Mother We Share is a great track (that ranked high on my song list last year), but part of me feels like this is Chvrches' best single.  Such synth-pop goodness.  From The Bones Of What You Believe.
02)  :Mikal Cronin – Shout It Out:  I was so very close to putting this Mikal Cronin gem in the top spot.  It really is one of the better pop rock songs to come along over the last year or three.  From MCII.
01)  :Vampire Weekend – Step:  It wasn't until I sat down to do this list that I realized just how much I adore this Vampire Weekend track.  I think it's an endlessly impressive piece of pop music that's totally deserving of all the time and attention you can spare.  From Modern Vampires Of The City.