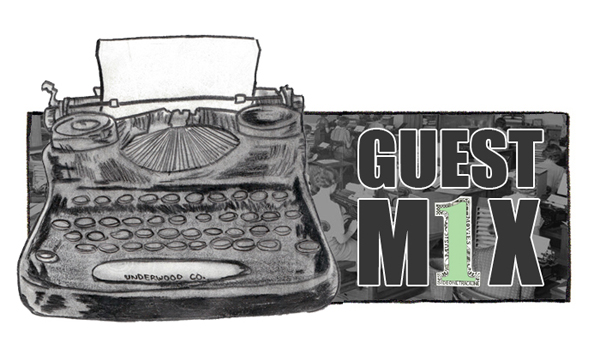 The SOTO staff eats up enough of your time, so every now again we like to bring in a guest.  This month it's P-Tek, one of the organizers of Austin Mic Exchange and the upcoming Weird City Hop-Hop Festival.

Eyeballs-deep. That's how I would describe my current involvement in Austin Mic Exchange (AMX), the events company I founded in 2012 with Miss Manners, and our current project, Weird City Hip-Hop Festival. This September we're throwing Austin's first hip-hop fest ever (which still kinda blows my mind), and as our booking manager Aaron Miller pointed out to me earlier today, "with great hip-hop comes great responsibility." Still, when all the booties have stopped shaking for the night, after all the emails, after all the shows, after all the website tweaking, tweeting, and twerking, it still really does boil down to just that – "great hip-hop". And I LOVE great hip-hop. I'm married to it. I'm currently trying to have a baby with it. I mean, it's certainly not ALL I listen to, but it's what I listen to, you feel me? So here I stand, at the raggedy edge of Fall, eyeballs-deep in my (and Austin's) first hip-hop festival, trying to make sure that in the mire of organization and planning I don't lose that essential, pure-as-the-fallen-snow feeling. The feeling that made me buy my first rap single in elementary school, the feeling that made me feel different from other kids until I found my community, and the feeling that made me want to embroider a throw pillow with the phrase "Home is Where the Hip-Hop Is" when I finally got there. These are 10 tracks that remind me why it is I do what I do.
:Scuare – General Lee:  I met Scuare through AMX about a year ago, and now he's legitimately my favorite Austin rapper. This is his best track. Listen to it.
:Jean Grae – Kill Screen:  This may be the only time in my life I ever directly quote a YouTube comment, but here goes: "She's not one of the best female rappers, she's one of the best rappers." She'll be performing at Weird City Fest, too.
:Madlib feat. Guilty Simpson – Go:  When you hear people say "that raw shit" – this is what they're talking about. 'Nuff said. Guilty will also be at Weird City Fest.
:Darc Mind – Visions of a Blur:  Recorded in 1995 but not dropped until 2006, Darc Mind's only album is maybe still ahead of its time. Emcee Kev Roc's bassy and rolling flow is absolutely hypnotic, and the production is dark, grimy, and psychedelic. Zone out.
:Urban Thermo Dynamics – Manifest Destiny:  Mos Def's first group from 1994 still bangs. Check the boom-bap production and Ces, who as the posse's only female emcee comes HARD with some golden age consciousness AND classic wack promoter disses. If I have a FAVORITE kind of hip-hop, this is it (and Das EFX and Black Moon and etc. etc. etc.)
:Jeru the Damaja – You Can't Stop the Prophet:  When I first started rapping, Jeru kept me honest. Waxing philosophic on the Tao, knowledge-of-self, politics, and the pitfalls of hip-hop culture over grimy-ass 90′s beats – this dude may just be the realist to ever touch a mic.
:Madonna – Human Nature:  My mom used to play this in the car when I was a wee child. At the time I just wondered what the funny feeling I got from it was. Later I learned that that feeling meant I was attracted to women. Even LATER I learned that the entire beat was a sample of the G-funk'ed up sounds of hip-hop group Main Source. "I'm not your bitch don't hang your shit on me" indeed.
:Atmosphere – Woman with the Tattooed Hands:  I grew up in Iowa, so Minneapolis hip-hop played a big role in my style and taste coming up. My girlfriend in high school practically demanded I listen to this track, and Slug's poetic exploration of a simple, straightforward subject still sticks with me. I used to jam this on my paper route senior year.
:Dr. Dre – Big Ego's:  2001 was the first hip-hop record I ever bought. It scared the shit out of me, and I also thought it was the coolest thing ever. This isn't even close to Dre's best song, but it still might be my favorite instrumental of all time. Just wait 'til that arpeggio comes in and TELL me it doesn't pair with a blunt like brie goes with red wine (brie goes with red wine, right?).
:Prince – Gett Off:  Oh man, Prince, I love you. This track is so nasty, blunt, and features a little rap from the Purple Majesty himself. Only Prince can chastise his date for wanting barbeque ribs on a dance track and keep it sexy.