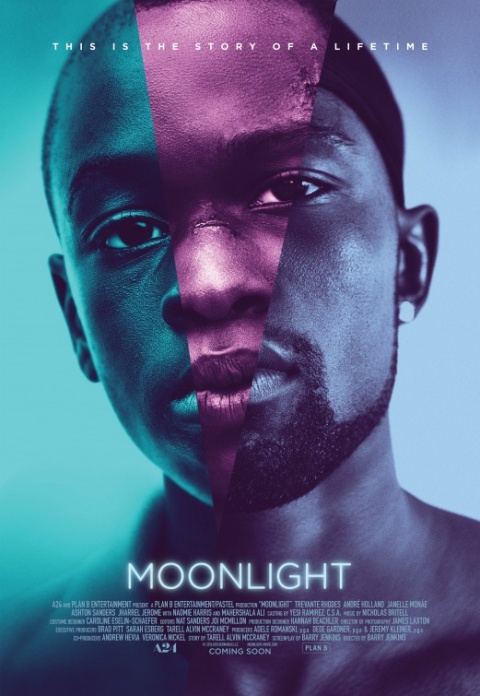 Pre-Screening Stance:
Moonlight has been blowing up the festival circuit and I haven't come across a single bad review (or even a mediocre one, actually), so at at this point it's difficult to not have unreasonably high expectations for the film.
Post-Screening Ramble:
Moonlight is as good as hyped, but it's a tough one.  The film is divided into three sections – Chiron as a boy, Chiron as a teen and Chiron as an adult – and there isn't a single a bit of it that's easy to watch.  Chiron (played brilliantly by three actors – Alex Hibbert, Ashton Sanders and Trevante Rhodes) lives in the ghetto with his heroin-addicted mother who mostly leaves him to fend for himself, and he's often picked on in school because he's different (and poorer than everyone else).  Then when he's a teen it's more of the same, until he can't take it anymore, so he acts out and winds up on an unfortunate path.  And when he's an adult?  Well, he lands exactly where a person with his background is expected to land.  Here's the best part about Moonlight though, the insight into the vicious cycle that many get caught in isn't even what the film is truly about – it's a love story, one with a more-forbidden-than-usual slant that will rip you up and serve as a stark reminder that legality means nothing when it comes to culture.  I found the film to be immensely powerful, and it will certainly end up in the top part of my list of the best films of 2016.  You should see it as soon as you can.
One Last Thought:
I've always liked Janelle Monae, but Moonlight made me dig her even more.  She's so charming, pretty and overwhelmingly wonderful in it.  Here's hoping her quality performance in the film lands her some other roles.