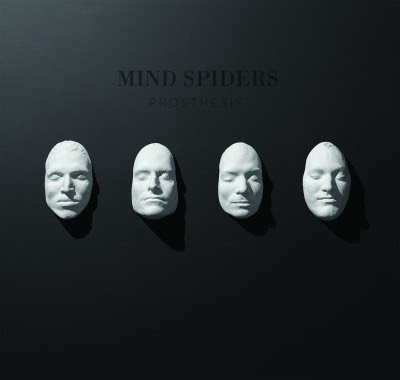 As I was deciding which band to write about I reviewed the albums I've had on heavy rotation. Prosthesis by Mind Spiders was an obvious choice, but I worried I'd written about them too much already. So I went back through my posts and realized I hadn't done a proper post on Mind Spiders since the Fall of 2013! That's WAY too long! Such an amazing band deserves much more attention than that. So listen up!
Mind Spiders began essentially as a one man act but over the years it has developed into a full fledged band. The current lineup includes Mark Ryan (guitar, songwriter), Daniel Fried (Bass), Mike Throneberry (drums) and Peter Salisbury (synth). For fans of punk and garage rock, the lineup is a supergroup featuring members of brilliant bands such as Marked Men, Radioactivity, High Tension Wires, Bad Sports, and Video.
Prosthesis is the fourth album in the last five years from the Fort Worth-based band. Their previous records have been critically acclaimed by outlets such as Pitchfork, New York Times, NPR, Spin, Paste, and your mom. This latest release is more forbidding and dark than past albums but it's no less engaging and catchy. The synths and keyboards are given a more prominent role alongside the always snarling guitars, and the result is a collection of ominous and beat heavy brand of space psych-rock.
I can't say enough about Prosthesis. This is Mind Spiders at their finest as they continue to explore and evolve. If this is their apex than it's an achievement worth noting, but considering the output of the band thus far, it's probably premature to say they've already peaked.