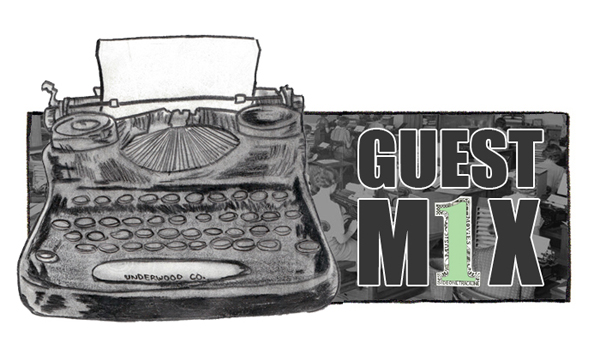 This month's Guest Mix is from my good pal Matt Shiv!  I met Shiv forever ago when he moved to Austin to continue working for WOXY.  The station, unfortunately, didn't make it, but Shiv went ahead and stuck around since it would have been really difficult to move his record collection back to Cincinnati.  Enjoy.
—
John asked me to check in with what I've been listening to lately. He won't be too surprised to know (although you may be) that I'm in a real pop-heavy mode these days. My listening habits are all over the board, with lots of pop radio intermingling with indie rock and old jazz records. The following tracks are in my personal heavy rotation right now. 2015 is definitely off to a great start.
—
Giorgio Moroder feat. Kylie Minogue – Right Here, Right Now
Legendary producer Giorgio Moroder's upcoming album is called 74 Is The New 24. It's his first release in over 30 years and he's enlisting the help of guest vocalists like Britney Spears, Sia, Charli XCX, Mikky Ekko, Foxes and, on this incredible first single, Aussie diva Kylie Minogue.
—
YesYou feat. Noah Slee and Castlerays – Waste Away
Heard this track a few weeks ago listening to Triple J radio out of Australia. They're a production duo from Brisbane and it reminds me of when I first heard Disclosure. Waste Away features vocals from Noah Slee and Castlerays and is the first single from an EP released on Yuksek's Partyfine label.
—
The-Dream feat. T.I. – That's My Shit
Terius Nash has written some of the biggest hits of the last decade including Rihanna's Umbrella and Beyonce's Single Ladies (Put A Ring On It). He's expected to release a double album later this year and this single from it is as amazing as it is horribly sexist.
—
Purity Ring – Begin Again
I loved the 2012 debut album from this Canadian duo and fell in love with them thanks to their dynamic and unique live performances. There have been three advance tracks released from their upcoming album Another Eternity and this is my favorite of the bunch. Thankfully they're going to be hitting the road to support the record and we'll get them back in Austin in late May.
—
Fifth Harmony – Worth It
I've always had a fondness for all-girl pop groups from the UK. Fifth Harmony reminds me of the Sugababes, so I was really surprised to recently find out that they aren't from England at all. Turns out, they all were contestants on the US version of The X Factor and then turned into a little supergroup. Hell, one of the members is even from San Antonio. They won me over with last year's single Bo$$ with its chorus that simply repeated the lyrics "Boss Michelle Obama/Purse so heavy gettin' Oprah dollars." Their new single should totally work at pop radio, partially because it sounds a lot like last year's huge hit Don't Tell 'Em by Jeremih.
—
Mark Ronson feat. Keyone Starr – I Can't Lose
Collaborating with Bruno Mars on Uptown Funk has finally broken Mark Ronson into the mainstream stateside, although I suspect that many people who pick up the full album for that tune are left scratching their heads a bit at the rest of it. The project doesn't have anything else as commercial as the lead single, but this little slice of heaven from the middle of the album is a soulful banger featuring vocals from a previously unknown singer Ronson discovered in Mississippi.
—
Django Django – First Light
This is the first single from the London band's second full-length album, Born Under Saturn. It won't be out until May, but I just may play this song on an endless loop up until it does.
—
Natalie Prass – Your Fool
This Nashville-based singer was, until recently, touring as a backup singer for Jenny Lewis. She just struck out on her own with a gorgeous self-titled album that is out on the Spacebomb label. I'm loving the production on this album and this track has a sunny, 70s AM-radio vibe. RIYL: Sharon Van Etten, The Mynabirds, Jenny Lewis (duh!)
—
The Decemberists – Lake Song
I've always liked The Decemberists in small doses, but have never spent a lot of time with their catalog. I heard this track on XM's The Loft one night when driving home from work and I was so transfixed by it that I couldn't get out of my car until it was over. This epic track will never be a single, but it's my favorite track on the new album What a Terrible World, What a Beautiful World.