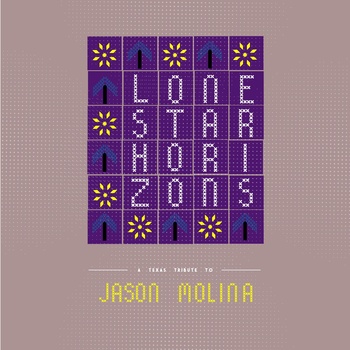 Jason Molina passed away at the age of 39 on March 16, 2013 after a long struggle with alcoholism. It was a sad ending for a man that touched many with his music. He released numerous albums, EPs, and singles as Songs: Ohia (1996–2003) and then as Magnolia Electric Co. (2003–2009).  Jason was a prolific and widely admired songwriter that never chased the latest sound or trend. He didn't craft his songs with the goal of gaining airplay. He just wrote music that mattered to him, songs that were true to himself, and in doing so he had a profound effect on other musicians.
One of those affected was Randy Reynolds (Leatherbag, No Future) who curated Lone Star Horizons: A Texas Tribute To Jason Molina. Reynolds teamed up with other Texas artists for this album of covers to raise money for the Jason Molina Medical Fund. The result is a moving homage to Molina and an album you're sure to love. The diversity of artists and musical styles is a reflection of Molina's music and yet another example of what a remarkable songwriter we have lost.
Buy Lone Star Horizons: A Texas Tribute To Jason Molina now on Bandcamp; donate some money to a good cause and enjoy one hell of an album.
Album Artists and Track Listing:
01. Battle Bend – Hot Black Silk
02. The Blurries – Hard To Love A Man
03. Cyber Dads (featuring James Petralli) -Just A Spark
04. Daniel Markham – Heartbreak At Ten Paces
05. Danny Rush Folmer – Being In Love
06. Delmore Pilcrow - I've Been Riding With The Ghost
07. Driftin Luke – Rock of Ages
08. Excited States – Napoleon: How We Have Ranged
09. Ghostward – Just Be Simple
10. Isaac Hoskins – Leave The City
11. Jordan Moser- Get Out Get Out Get Out
12. Lex Land – Northstar Blues
13. Linen Closet – No Limit On The Words
14. R. Reynolds – Down The Wrong Road Both Ways
15. Ryan Thomas Becker (of RTB2) – Soul
16. Some Say Leland – 34 Blues
17. Starhead – Lioness
18. Some Say Leland – Hold on Magnolia