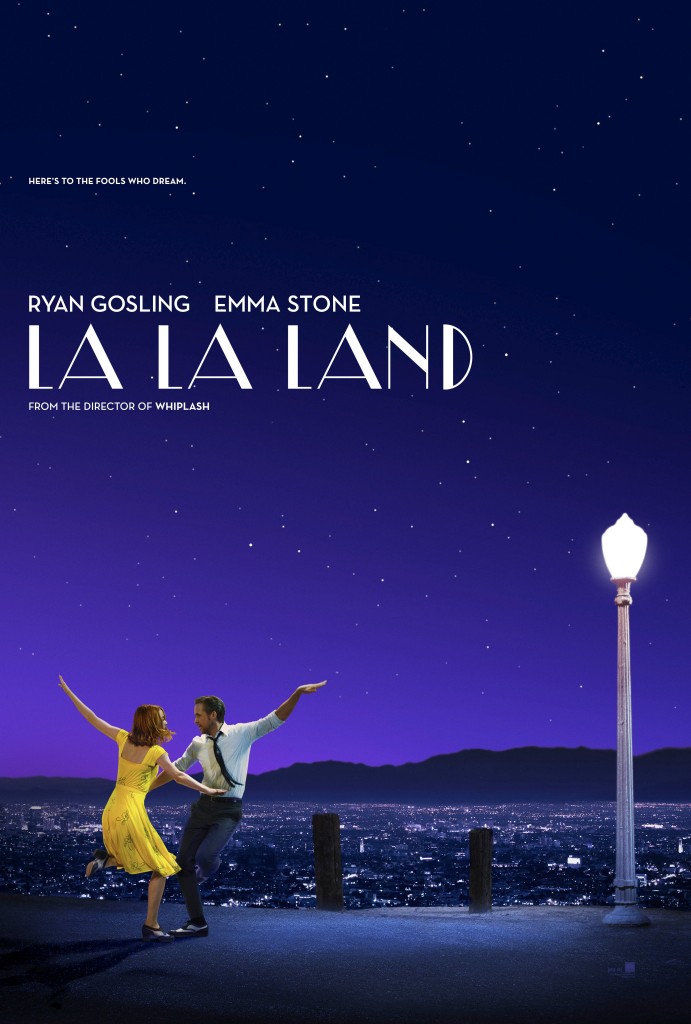 Pre-Screening Stance:
Even if La La Land wasn't riding an enormous wave of positive buzz, I'd still be excited to see the film because it's a musical directed by Damien Chazelle, who did the rather excellent Whiplash, and it stars Emma Stone and Ryan Gosling, both of whom are really pretty and charismatic.
Post-Screening Ramble:
Oh boy.  La La Land is a gem.  It features Mia (Emma Stone), a young lady who works a dead-end job and endlessly auditions for roles in attempt to "make it" as an actress, and a fella named Sebastian (Ryan Gosling), a musician who hopes to save jazz by opening up his own club.  They meet, it doesn't go well, then they meet again and so many sparks fly about that it made me worry my theater might catch on fire.  After that there's love, music, hope, successes, failures, harsh realizations and more that fill the screen and swallow you whole.  Stone and Gosling definitely deserve a big high five for their performances in La La Land (neither could possibly be more charming and/or genuine), but I think it's director Damien Chazelle that really should be showered with adoration.  His film feels and looks like an old Hollywood throwback, but it's a modern story with modern characters and modern ideals.  This will sound odd, but it reminds of the approach that James Gunn took with Guardians of the Galaxy.  That movie looks and feels like an old school adventure flick with its classic rock tunes and whatnot, but it's total new sci-fi, comic book nerdiness at its core.  Same sort of thing with La La Land – Chazelle's film may feature a lot of whimsical singing and dancing (all of it is really well done, by the way) and it may in general present a classic version of Hollywood, but at the end of the day it's a modern love story that aims to provide a dash of nostalgia as it shoves you into the future.
See La La Land immediately.  Even if you don't like musicals, I promise you'll dig it.
One Last Thought:
Ryan Gosling seems to largely play Ryan Gosling in a lot of movies, but somehow it works for him and doesn't come off as flat and uninteresting.  Now that's the life!  "The thing about this new character is that, well … it's just me again."  Then you toss 'em a wink and stroll right home or wherever witchy charmers like Ryan go.