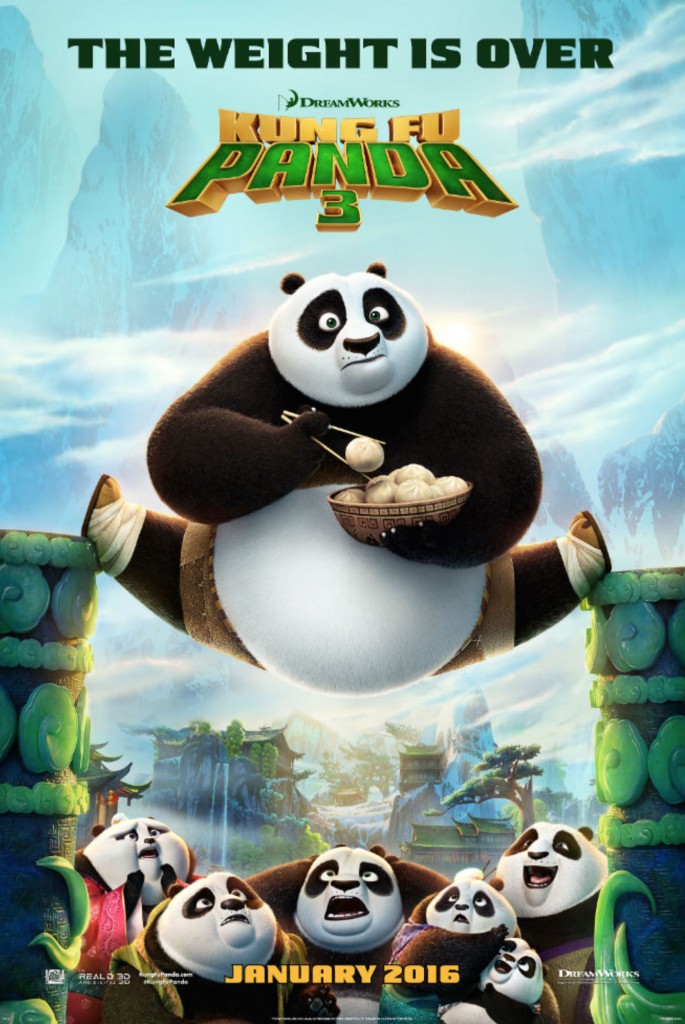 Pre-Screening Stance:
Personally, I think the first two Kung Fu Panda films are pretty good.  While they're both fairly silly, they pack a positive message and feature great visuals.  I have moderately high hopes for the third entry.
Post-Screening Ramble:
On the outside, Kung Fu Panda 3 isn't all that different than the first two entries in the series.  Po (voiced by Jack Black) thinks he has his whole life figured out, but a particularly tough challenge comes along and forces him to push himself so that he can be who he needs to be to save the world.  Also, the film – just like its predecessors – features some really great looking action scenes, a nice message (believe in yourself, you can do anything) and a slew of goofy jokes.  It is, without a doubt, what it's supposed to be.  Unfortunately though, even if you just lightly poke at the film's shiny exterior, you'll open a hole big enough to see inside to its hollow core.  While watching it I felt like it had been completely auto-created via some weird Kung Fu Panda formula, and then the computer running the numbers proceeded to generate a full film and prep it for distribution.  There's not much heart or originality on display, just a lot of celebrity voices and various things that co-directors (I'm assuming they're not computers) Jennifer Yuh Nelson and Alessandro Carloni lifted from the other two films.  Sure, Kung Fu Panda 3 is an overall harmless, mostly enjoyable movie, but it's legit lacking anything that's memorable.  If you ask me, that's disappointing.
You won't hate yourself for dropping your hard-earned dollars on Kung Fu Panda 3, but you might later wonder what the point was when you can't remember anything about it.
One Last Thought:
It's pretty clear that Dreamworks will be churning out Kung Fu Panda films long after we're all dead and gone.