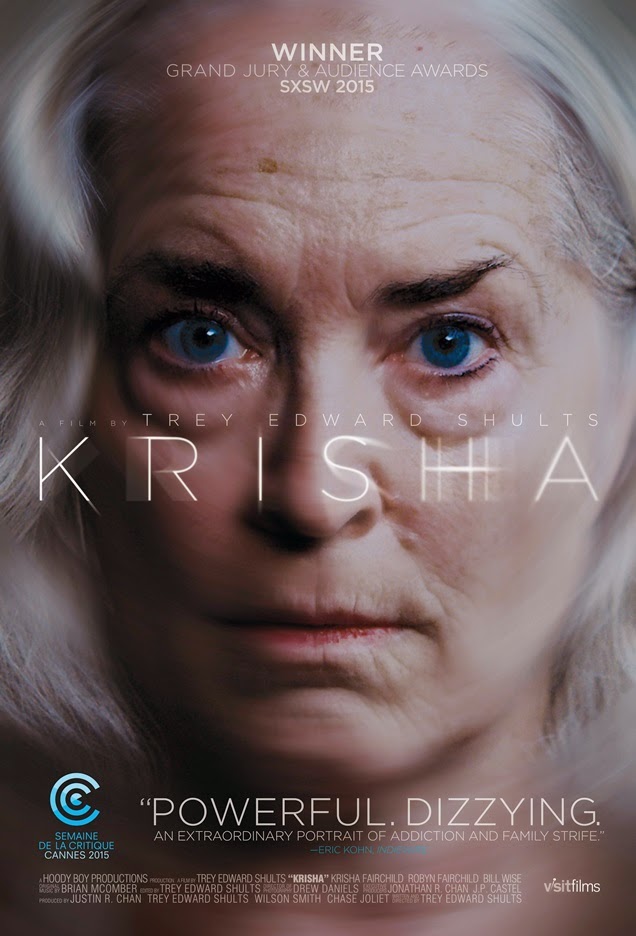 Pre-Screening Stance:
I had never heard of this movie before Johnny Boy Laird dropped the screener into my lap, but upon researching found that it was a debut feature from an Austin based director and it had been cleaning up on the indie circuit. Also, A24 picked it up, and I don't know if it's possible that they touch anything that isn't cinematic gold.
Post-Screening Ramble:
You couldn't find a film story with more "indie cred" smeared on it. Trey Edward Shults directed, wrote, and edited (as well as playing a small part) Krisha using a small cast of, for the most part, his own relatives, in one location in nine days. Beyond that the film plays like a wonderful mix of Vincent Gallo and Terrence Malick, a tightly shot family drama, that unfolds in almost elegiac mini-scenes. The film's title, Krisha, refers to the main character (played by Krisha Fairchild, the director's aunt), a familial black sheep who coasts back into her family's Thanksgiving dinner (on a beautifully tense and chaotic tracking shot) looking to redeem herself for, well, years of being bad. Shults is an impressively talented director, milking the expected tension that exists just under the surface of every family gathering to its breaking point. Though it's Krisha's presence that turns the casual holiday event on its head, Stults makes it clear that all the ingredients for disaster are already cooking. Fairchild, an amateur actor, is impressive as a woman trying to prove she's not who she used to be, a simmering cauldron of anxiety and anger, and when she finally snaps, it's somehow both cringe-inducing, but also painfully sad. Part of this is Stults ability to place, visually and emotionally, the clearly fragile Krisha in the center of the scene, his camera locked on her, as the movements of the family (all eleven of them plus dogs) spin chaotically around her. The audience can already tell she's on the edge, but in Stults frame, we can also see how quickly she's being pushed towards it.
One Last Thought:
It's actually quite nice to see, especially in the wake of screening Batman v. Superman I had this week, that small, thoughtfully put together pieces of art like this can still exist. I worry sometimes.