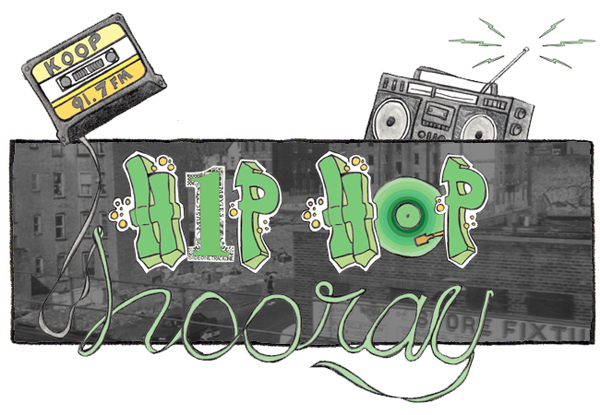 Well, I hope everybody's ready for the steam train called "festival season" that's about to crash into Austin with the beginning of South by Southwest.  You have t-minus seven days to complain/exalt about the city-wide party, and then just cool it everybody. This train doesn't stop for whiners.  Here's a mix. It's chill 'cause the city is about not to be. Bump it loud.
One other thing: KOOP Community Radio 91.7FM is currently in Membership Drive, which is where we ask you, the community to support us. We only ask twice a year, unlike some bars I know (how do I get "regular status" at drink.well without spending any money, you guys?), and we sure could use whatever amount you could donate. We also have a sweet shirt this year, and a live compilation CD on offer.  Listen to Hip Hop Hooray on Sunday at 2pm and you might even get an extra thank you gift from yours truly! If you can give now, please do so here, and thank you millions.
SONG OF THE MONTH:
Ever want to scream sing real loud in your car (or in public) with some real deep rap about feelings and stuff?
:Astronautalis –  The River, The Woods:
 FEBRUARY MIX:
:Mos Def – Auditorium (Featuring Slick Rick):
:MC Esoteric – Here We Come (Featuring Apathy And Motive):
:MOBONIX – Third World America:
:MDK – What it Cost:
:MURS – Priu$:
:Major Lazer – Aerosol Can (Featuring Pharrell Williams):
:Maurice Mobetta Brown – Back At The Ranch (Featuring Jean Grae):
:Kasim Keto – Pusher:
:Magna Carda – Chuck Close Trip:
:Korpersaysun – Microphone Nutter:
:Labtekwon – Speak On It:
:Large Professor – For My People:
:King ART – Who Am I:
:Last Emperor – Echo Leader:
:The Cool Kids – Computer School: