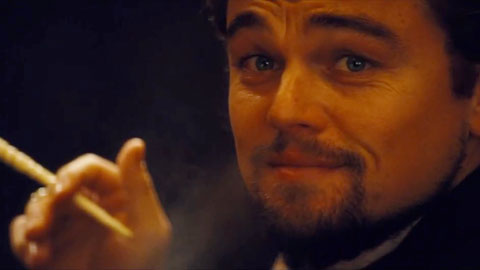 2012 was a good year for film.  I ended up seeing 126 releases, and I have to admit that the majority of them were far from terrible.  This, of course, made crafting a Top 10 fairly difficult, but I gave it my best shot.  Just a heads up, below the main section of this article you'll find some mini-lists.  Read on!
10) The Avengers
I feel like some people are afraid to put this movie on their year-end list.  It's like the 1.5 billion dollars it made worldwide is now suddenly shameful.  I, however, still think of The Avengers as an amazing achievement.  The movie is an outright great time, and I have a feeling that it will be influencing comic book adaptations for years to come.  Way to be, Joss Whedon.
09) Beasts Of The Southern Wild
Much has been made of this little effort that plays big, and the hype is certainly warranted.  Quvenzhane Wallis, who is now the youngest person to ever be nominated for an Academy Award, is so good that you walk away from the movie wishing you could spend more time with her.
08) Life Of Pi
If I didn't already think that Ang Lee was a talented director, his work on Life Of Pi would have quickly remedied that particular train of thought.  He really did craft a beautiful, inspiring film out a book that seemed nearly impossible to adapt.  I can't wait to own it.
07) Silver Linings Playbook
David O. Russell should win an award just for landing Bradley Cooper and Jennifer Lawrence in Silver Linings Playbook.  The manic chemistry between their characters made for one of the more fascinating things I saw in a theater in 2012.
06) Lincoln
I was not at all interested in seeing Lincoln.  I thought the trailers were boring, and despite my fondness for Steven Spielberg and Daniel Day-Lewis, I just couldn't get excited about the film.  And then, I saw it, and what I found was that it's actually a superbly crafted effort.  To be honest, I'm still buzzing about it.
05) Argo
The best decision Ben Affleck ever made was to start directing films.  The guy is so very good at it, and with Argo, which is certainly his best effort to date, I think it's time to consider him to be one of the best directors working.  This movie had me on the edge of my seat the entire time.
04) Seven Psychopaths
I love In Bruges so much that I went into Martin McDonagh's follow-up with expectations so high that I was sure I'd be disappointed.  But I wasn't.  Seven Psychopaths is so very clever and hilarious, and I'm anxious to have it in my library for viewing whenever i please.  Side note, if Colin Farrell would exclusively work with McDonagh, the world would be a better place.
03) Django Unchained
Quentin Tarantino is the most entertaining bastard on the face of this planet, and Django Unchained is proof of that.  The damn thing is just insanely fun.  When I wasn't laughing, I was cheering, and when I was doing either of those things, it meant the credits were on and I wanted the movie to immediately start over.
02) Cabin In The Woods
Some would say that The Avengers is the nerd film of the year, but I think it's actually Cabin In The Woods.  There are so many clever references to catch, and then there's the fact that it's filled with a slew of moments so gloriously geeky that you can't help but loudly celebrate throughout the entire movie.
01) Zero Dark Thirty
I was blown away by Kathryn Bigelow's follow up to The Hurt Locker.  The movie is just a mammoth effort that's so very heavy and intense, but yet there isn't a single moment where you want to bow out.  Like the driven CIA operative that Jessica Chastain plays, you feel determined (and maybe even obligated) to see how the hunt for Osama bin Laden ends.  And speaking of the end.  The way Zero Dark Thirty comes to a close will stick with me until the day I'm gone.  Just an all around brilliant film.
—
5 Honorable Mentions
Skyfall
Bernie
Looper
Holy Motors
The Grey
5 Solid Films That Were Almost Spectacular
The Dark Knight Rises
Prometheus
Cloud Atlas
The Hobbit: An Unexpected Journey
The Hunger Games
5 Smaller Films You Need To Seek Out
Sleepwalk With Me
The Sessions
Goon
Fat Kid Rules The World
Safety Not Guaranteed
5 Worst Films Of 2012
Not Fade Away
Snow White And The Huntsman
The Comedy
Wrong
Battleship
Unfairly Shit On Movie Of 2012
John Carter
Biggest Surprise Of 2012
21 Jump Street