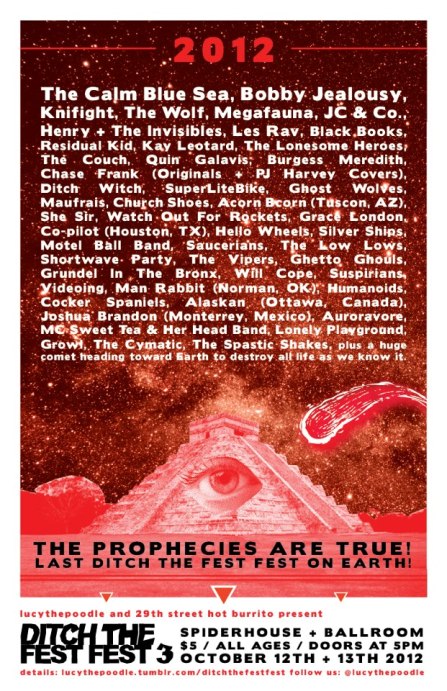 Got your tickets for the ACL Festival this weekend? No?! Well, me either. That's okay. You don't need to plop down $200 (or however much 3-day passes cost) to see an incredible collection of bands this weekend. In fact, for just $5 a day you can see almost 50 bands spanning all sorts of genres – indie, country, rock, hip-hop, electronica, post-punk … you get the idea. So do yourself a favor and cancel your weekend plans, then head over to the Spiderhouse and 29th Street Ballroom for DITCH THE FEST FEST 3!
Once again the festival is being run by Lucy The Poodle. It's an annual tradition offering an array of local and national acts without having to battle with 80,000 people or overpaying for food and beer. Last year the fest was held at five different locations but this year it's more contained and centralized. This will make it easier to bounce between the four stages and see as many bands as you'd like. Yet another advantage over ACL.
There are many bands worth checking out, but I highly recommend seeing The Wolf, Megafauna, The Calm Blue Sea, Bobby Jealousy, Black Books, and Residual Kid. The songs below are just a sample of the range of music you can catch at Ditch the Fest. No matter your musical preferences, there will be bands for you.
:Bobby Jealousy – This Knife:
:Henry And The Invisibles – Take It 2 The Tippy:
:Knifight- Black Daggers:
:Megafauna – Scratch At The Latch:
:The Lonesome Heroes – 287:
SPIDERHOUSE + BALLROOM
$5 / ALL AGES / DOORS AT 5PM
OCTOBER 12TH + 13TH 2012
Friday 10/12
Ballroom Main Stage
6:30 Growl
7:30 Lonely Playground
8:30 Maufrais
9:30 Residual Kid
10:30 The Spastic Shakes
11:30 The Vipers
12:30 Bobby Jealousy
Ballroom Bar Stage
7:00pm COCKER SPANIELS
8:00pm Ghost Wolves
9:00pm Chase Frank (performing originals + PJ Harvey covers)
10:00pm Humanoids
11:00pm Church Shoes
12:00pm Motel Ball Band
Chapel
6:30pm MC Sweet Tea & Her Head Band
7:30pm Superlitebike
8:30pm Videoing
9:30pm TBA
10:30pm Hello Wheels
11:30pm Man Rabbit
12:30pm Henry + The Invisibles
Spiderhouse
6:00pm Shortwave Party
7:00pm Grundel in the Bronx
8:00pm Co-Pilot
9:00pm Alaskan
10:00pm Megafauna
Saturday 10/13
Ballroom Main Stage
6:30pm Burgess Meredith
7:30pm She Sir
8:30pm Grace London
9:30pm Les Rav
10:30pm Black Books
11:30pm Calm Blue Sea
12:30pm JC & Co.
Ballroom Small Stage
6:00pm Watch Out For Rockets
7:00pm The Couch
8:00pm Suspirians
9:00pm Kay Leotard
10:00pm Acorn Bcorn
11:00pm The Rich Hands
12:00pm Quin Galavis
Spiderhouse Chapel
6:30pm The Low Lows
7:30pm Auroravore
8:30pm Silver Ships
9:30pm The Cymatic
Spiderhouse Bar
8:30pm Big Bill
9:30pm Borris Okane
10:30pm KNIFIGHT
11:30pm TBA
12:30pm TBA