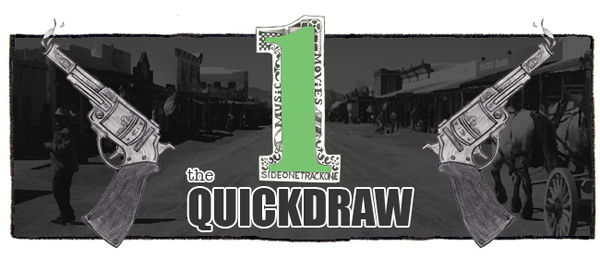 Alright kids, I believe that with this post I'm all caught up now.  Hopefully you discover(ed) some cool stuff that you may have missed over the holiday break.  Enjoy.
:Modest Mouse – Lampshades On Fire:  This is one of those stellar Modest Mouse singles that reminds you why they're so revered.  It's anthemic, weird and infectious.  I really hope their new album is a great one.  Strangers To Ourselves will be out on March 3 via Epic Records.
:Spoon – Inside Out (Tycho Remix):  While I'm not sure it's necessary to alter something as perfect as the original version of this Spoon track, I can't deny that I dig what Tycho did with it.  The arrangement is now much more expansive.  This remix is a one-off, so download it while it's here.
:The Julie Ruin – Blueberry Island:  For a moment I thought that Kathleen Hanna and The Julie Ruin had readied a new album, but this slick number is actually just a b-side from 2013′s Run Fast.  Oh well.  I'll still take it!  The Blueberry Island 7″ is due out soon via Federal Prism.
:Guards – Nothing More:  Richie James Follin (brother of Cults' Madeline Follin) sent me this new Guards track over the break.  I think it's a wonderfully produced pop song, and I expect you to eat it right up.  Look for a new album from the band later this year.
:Male Bonding – Falling:  Here's a fuzzy new one from Male Bonding, who have been largely MIA for the last few years.  No details on a new album (or tour) have been released, but it seems pretty likely that some sort of announcement is coming soon.  Fingers crossed, though.
:Gal Pals – Ex-Marionette:  It's a bummer that Gal Pals are no longer in Austin (they're now in LA), but at least they finally wrapped their debut album.  This first single is one super catchy piece of retro pop.  Velvet Rut is due out February 24 via Papercup Music.
:Moon Duo – Animal:  This new Moon Duo song isn't exactly what I would call accessible, but you'll probably still stick it on repeat since it's a rather entrancing effort.  Have fun living in a psychedelic haze for a bit.   Shadow Of The Sun is due out March 3 via Sacred Bones.
:Conor Oberst – Sugar Street:  Conor Oberst just about puts me to sleep these days, so I have to admit I was pretty surprised when this track managed to hold my attention.  It sounds a lot like the stuff that originally made him worth paying attention to.  If you search around, you can probably find the Record Store Day Black Friday 7″ that this song resides on.
:The Suffers – Make Some Room:  My good pals The Suffers are ready to set loose an official EP, and you're going to want it.  Unless, of course, you don't like good soul music.  The Make Some Room EP is due out January 20.  See the band at Empire Control Room on January 23.
:Magna Carda – Juice:  I've said it before and I'll say it again, Magna Carda are one of Austin's best acts.  You should really download their latest release, Like It Is, for FREE via Bandcamp and then spend the next week or eight blasting it as loud as you can.