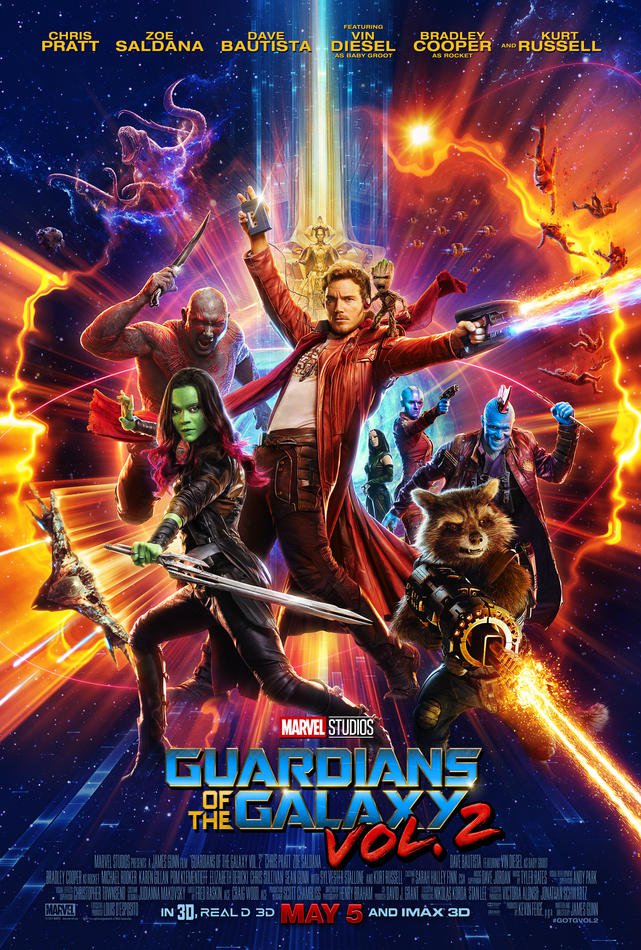 Pre-Screening Stance:
Come on!  If you're not hyped for Baby Groot The Movie Guardians Of The Galaxy Vol. 2, then you're probably dead.
Post-Screening Ramble:
The nerd in me really enjoyed Guardians of the Galaxy Vol. 2.  The film has a bright, colorful, creative design, and it's very energetic and loaded with great music.  All of the principal characters are back and in fine form – Chris Pratt is super charismatic as Peter Quill, Bradley Cooper's sarcastic voice drives Rocket, Zoe Saldana is stoic as ever as Gamora and Dave Bautista is wonderful as the thick-headed Drax.  And then there's Vin Diesel as Baby Groot.  Oh my.  Expect your heart to melt.  The lot of them, without a doubt, are a great team, and watching them together on the screen again made for a rather enjoyable time at the theater.
With that being said, the critic in me though isn't quite as accepting of Guardians of the Galaxy Vol. 2, and it's because it's the same movie as the first Guardians of the Galaxy.  It starts the same, it then hits the same beats, and then it wraps the same.  So much has been made of how Guardians of the Galaxy is the best part of the Marvel Cinematic Universe because it isn't tied to the same plot points as the other films, and yet the second entry in the series does nothing to expand its own story or move its characters forward.  At the beginning of Vol. 2 we find everyone where we left them, and then they're right back there when it comes to a close.  In fact, there's only one character that gets any sort of actual development, and it's not even someone who is a main member of the team – Yondu (the great Michael Rooker).  Otherwise, it's just more of the same.  Now, as I said up above, I enjoyed the film and didn't mind the same ol' same ol', but I'm not letting writer/director James Gunn slip away without being tagged for essentially making Guardians of the Galaxy Vol. 1.5.  It feels like he wasn't really sure what to do, so he stayed in his safe zone and did what worked the first time around.  To some degree, that's fine, but Guardians of the Galaxy is a series that should stay way out in front of everyone else and take some risks, and there's just none of that happening here.  This makes it difficult for me to not at least somewhat view Vol. 2 as a missed opportunity.
Should you see it?  Yeah of course, don't be daft.  I just advise you keep your expectations in check a bit and make sure you're down with a big serving of re-heated Guardians Vol. 1.
One Last Thought:
I just want to confirm that there are indeed five extra scenes that play during the credits.  I was thinking they'd all be silly, but there's actually a pretty good mix of jokey bits and important things.  Definitely stay in your seat.