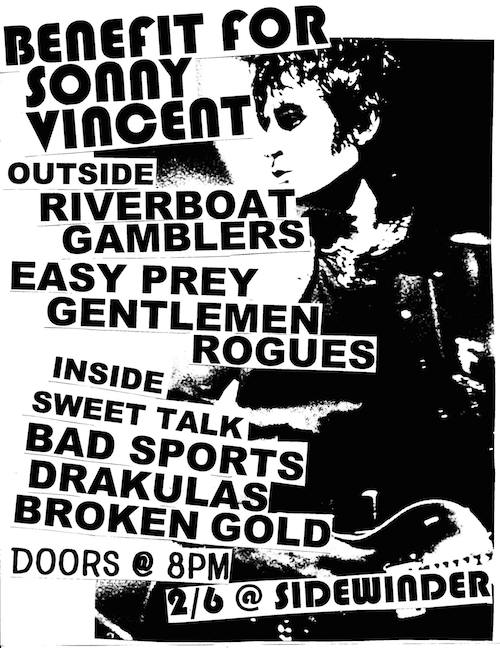 Saturday night there is a benefit show at the Sidewinder (doors at 8pm) featuring a slew of incredible Texas punk and garage rock bands. The show is being held to benefit Sonny Vincent (of the Testors) whose family was recently involved in a tragic accident. All proceed collected at the door will go towards the recovery of Sonny's family.
Sonny's son, daughter-in-law, and grandson were involved in a gas explosion. They are each currently in the Burn Intensive Care Unit at Winston Salem Medical Center, and are on life support struggling for their lives. A Go Fund Me has been established to help cover the family's massive medical bill. Whether you can make it to the show or not, I hope you will consider donating to this worthy cause.
For those unfamiliar with Sonny Vincent, he's a punk rock musician that has been making great music since the mid-1970s. He started out as part of the New York City punk rock scene and over the years has performed and recorded with an incredible array of musicians. These include Maureen Tucker, Bob Stinson, Brian James, Thurston Moore, Lou Reed, John Cale, and Jad Fair, just to name a few.
Here is the lineup for this Saturday. I hope to see you there!
Outside:
Riverboat Gamblers 11:10-12 AM
Easy Prey 10-10:30 PM
Gentlemen Rogues 9-9:30 PM
Inside:
Sweet Talk 12:50-1:30 AM
Bad Sports 12-12:40 AM
Drakulas 10:30-11 PM
Broken Gold 9:30-10 PM