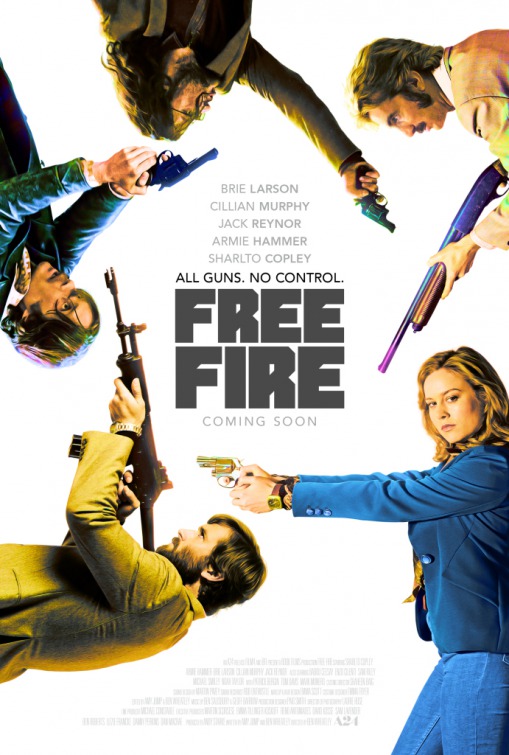 Pre-Screening Stance:
Ben Wheatley (High-Rise, A Field In England) is a buzzy director and the list of actors he's assembled for Free Fire includes Brie Larson, Arnie Hammer, Sam Riley, Cillian Murphy, Sharlto Copley and Michael Smiley.  Seems like a winning combo to me.
Post-Screening Ramble:
Ostensibly, Free Fire isn't a movie with a whole lot going on.  Some shady folks meet up in an abandoned industrial spot to swap some cash for some guns, things go awry, and then they start shooting the shit out of each other.  That's it.  Thankfully though, writer/director Ben Wheatley's latest effort features what can be tagged as nuanced violence, and that makes it a lot more than just a film with a bunch of smart-ass goons in a blood bath.  There's actually something to be learned with each shot – from either a mouth or a gun – that gets fired!  How neat.  And let's face it, Wheatley could have easily delivered a longer, more elaborate film that takes an in-depth look at who is doing what and why, but instead he allows the characters to quickly show their true selves via how they act in a spontaneous gunfight  – sort of like providing a backstory without providing an actual backstory – and in the end it's a decision that really pays off.  Expect to have a really fun time picking out little things about each character and then using that to determine who might actually make it out alive.
Definitely go see Free Fire.  It's violent, really funny and surprisingly crafty.
One Last Thing:
Hollywood really needs to start casting Sharlto Copley in more comedies.  He'd be great as the kooky sidekick for someone, or as an eccentric lead … or really, just whatever in anything that will allow him to ramble about.  He's so hilarious that I'm sure he could take any comedic role and make it work in wondrous ways.