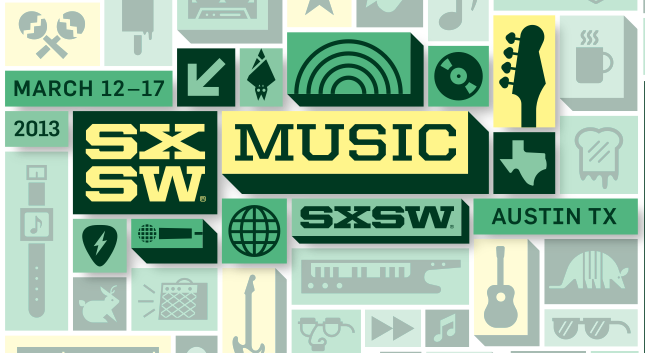 Even though I'm a 16 year veteran of attending SXSW, I'm reluctant to do much in-depth research for fear that my head will cave in from information overload. The festival is certainly no longer limited to the latest buzz bands. I admit I'm looking forward to seeing bands that are festival veterans and maybe even a rock n' roll legend or two. I also willingly break the unofficial rule for Austinities by checking out local band showcases. I know I can see them throughout the year, but why is it so wrong to support them during SXSW?
I've selected five Austin bands and five non-Austin acts worth checking out next week.
Don't forget your earplugs, wear comfortable shoes, and drink plenty of water.
Hundred Visions
I had heard of Austin's Hundred Visions a couple of years ago, but I didn't become a fan until seeing one of their Austin Free Week performances in January. It was full of energy, passion, and fun. Their sound is an irresistible blend of late 70s power pop and early 80s British post punk. You can catch their official showcase on Friday, March at Metal And Lace. They're also part of the lineup for SOTO's day party, DC vs Austin, on the same day. Just in time for the festival, the band has released a video for the track Where Do I Sign?.
The Ugly Beats
A longtime Austin favorite of mine is The Ugly Beats. Their sound combines 60s British invasion, garage rock, surf, punk, and psych, and their shows turn into instant dance party. They're a total blast and one of the best bands in town. They play their official showcase as part of the Get Hip Records lineup at the Parish Underground on March 16.
The Calm Blue Sea
Local quintet The Calm Blue Sea create a powerful sound that (pardon the oceanic reference here) washes over you – at once it can be gentle and calming but it can also take your breath away as it crashes over you. They're part of an excellent label showcase by Austin based label Modern Outsider that includes other quality Austin bands such as Ume, The Black and White Years, My Jerusalem, and Mirror Travel (formerly Follow That Bird!).
Residual Kid
Don't call them a kid band and don't call them a novelty band. The members of Austin trio Residual Kid may be young, but I've been to shows where older bands that play after them have asked aloud onstage, "How do we follow that?" They're loud, brash, and maybe even a bit messy. They're not afraid to just go for it and have a lot of fun onstage while melting faces of all ages in the audience. They're playing plenty of day shows and you can check out their official showcase on March 16 at The Palm Door.
Grape St
Grape St are about to release their debut album, A Date With You, on the local start up label Austin Town Hall Records. Their infectious garage rock stompers make for a raucous live show. They have two festival showcases – March 13 at Cedar Street Courtyard, followed by another showcase later that night on the Hotel Vegas patio.
—
Robyn Hitchcock
Robyn Hitchcock is a longtime SXSW veteran, but this is not an artist who repeats himself. I'm always intrigued to see him perform live. His lyrics and stage banter have a stream of consciousness quality that range from thought provoking and biting to humorous and flirtatious. I'm sure that "quirky" and "odd" have been used to describe him and his songs, but those words don't do him justice. Just listen and dig a little deeper to appreciate the enigma that is Robyn. His official showcase is on March 14 at the Continental Club. He's also part of the all star tribute to the late Brent Grulke at the Austin Music Awards.
Ash
I'm pretty sure I did a little happy dance when I learned that the Ireland band Ash was returning to SXSW. I have a fond memory of watching them play a day party from a far distance in 2006; the band could see the far off crowd watching and dedicated Renegade Cavalcade to us. In the past couple of years, the band has played some limited tour dates in the US, but it's been seven years since they've played in Austin. In late 2012, the band marked its 20th Anniversary with the release of the Ash A-Z Series, and they're playing additional US dates in support of that release. They have skillfully combined hard, crunchy guitars and infectious, singalong worthy pop hooks that have won over listeners and allowed them to maintain a devoted fan following. Their official showcase is at Buffalo Billiards on March 13, and they're also playing the Irish Full Breakfast showcase.
The Zombies
You don't have to be a scholar or hardcore fan to appreciate The Zombies, who are in their 52nd year of being a band. Two original members remain – lead singer Colin Blunstone and songwriter/keyboardist Rod Argent. As one of the most influential bands from the 60s British Invasion, you're probably familiar with some of their classic hits, including Time Of The Season, She's Not There and Tell Her No. I'm not familiar with their 2011 release, Breathe Out, Breathe In, but I'm sure that they won't leave SXSW without playing their classic hits and fan favorites. Their popularity and influence on contemporary bands endures for past, present, and future fans. Their official showcase is on March 16, and they're also a featured interview on March 15 at the Austin Convention Center.
Free Energy
Philadelphia based quintet Free Energy never fail to make me smile. It's feel good music that's ridiculously catchy; think classic rock meets power pop. Even the cool kids who usually keep their hands in their pockets will start clapping, dancing, and singing along. They're supporting the release of their second album, Love Sign, and I've been looking forward to their return to Austin since their SXSW showcase last year. The band genuinely enjoys what they do and it shows during their live performances. They're playing several day shows and their official showcase is on March 16.
Frightened Rabbit
I first saw Scottish quintet Frightened Rabbit at a small SXSW day party in 2008. It was a short set, but they definitely made an impression on me. The band is celebrating their return to this year's festival with the release of their fourth album, Pedestrian Verse. Their songs have a persistent sadness, but they also convey a sense of hope and resilience which strikes a familiar chords in many of their fans and listeners.  This is not a band that stares at their shoes; their live shows are passionate, sweaty, and satisfying affairs. Their official showcase is at The Belmont on March 14. Even if you have a badge, get there early as The Flaming Lips, The Joy Formidable, Alt-J, and Surfer Blood are part of that night's lineup.