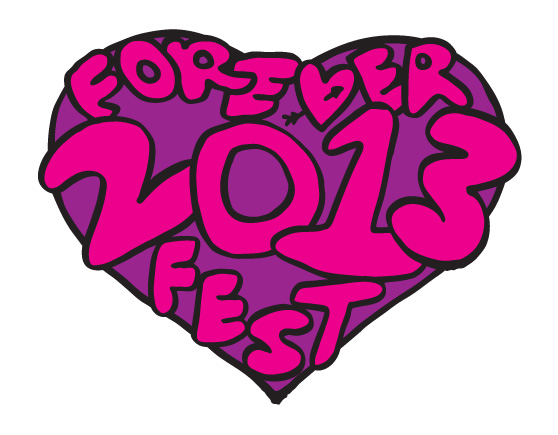 Forever Fest is almost here!  Curated by Brandy Fons and Sarah Pitre, the festival is a legit labor of love, and you should go.  Because I want you to.  OK, so full disclosure here, I only the one reason why you should attended Forever Fest.  Brandy and Sarah, however, have 10 totally rad and reasonable points that they've put together just for you.  I dare you to read through them and not find something you'd like to attend!
PS – Check out the full Forever Fest schedule here.
1)  It's the first ever festival dedicated to girlie pop culture!
If you're a lady who loves Dirty Dancing, a woman who's seen Sixteen Candles a thousand times, or a guy who can't stop quoting Clueless, you're still in search of a festival that meets your movie-loving needs.  Look no further – Forever Fest is for you!  It's a festival that welcomes your inner teen while appreciating the fact that some things, like movies and people, just get better with age.
2)  We're screening EMPIRE RECORDS!
What could be better than spending your days rocking out to 90s alternative music, throwing fake funerals, yelling "SHOPLIFTER!!" and, most importantly celebrating Rex Manning Day?  This movie celebrates everything that makes us nostalgic for the 90s and we're following the screening with an awesome Red Manning Day Party at the Stephen F. Austin Intercontinental Hotel.  We will be dancing the night away to 90s hits performed by cover band Zoodust.  Attendees are encouraged to dress in their best grunge attire to compete in the Empire Records Employee Costume Contest!
Tickets are still available for the screening (which include the party) here, or you could just join us for the party by snagging a $5 ticket here.
3)  We are partnering with BuzzFeed Animals for The Cutest Show On Earth!
We've all sat down at our computers, clicked on that Facebook post "cat mom hugs baby kitten" and emerged two hours later after watching video after video of puppies trying to climb the stairs and panda babies sneezing.  BuzzFeed Animals specializes in cultivating the magical feelings that come from watching cute things be cute and Forever Fest is partnering with them to challenge attendees to a cute-off featuring life-changing categories such as The 25 Most Important Cats Of The 21st Century and Help, My Ovaries: A Giggling Babies Compendium.  All this cuteness along with games and prizes make this an easy addition to a list of reasons to go to Forever Fest.
Tickets are still available here.
4)  We're doing a FREE young adult book panel with four of the most dynamic writers in the genre.
We are prolific readers of books deemed "young adult" and this panel is our chance to celebrate our obsession with these books despite the fact that we're a little more "adult" than "young."  We'll be joined by Heather Cocks and Jessica Morgan, authors of Spoiled And Messy and founders of Go Fug Yourself, Megan McCafferty, author of the Jessica Darling series and Kirsten Smith, author of Trinkets co-writer of 10 Things I Hate About You, Legally Blonde and She's The Man.
The panel is totally free, but you can also reserve a seat by purchasing a $5 food/beverage voucher here.
5)  Danceoke!
We love dance movies.  Things that usually matter in film, like a good script or strong acting, take a backseat to what's really important: busting a move.  The only problem with these movies is that you can't jump up from your seat and join the dance party … until now.  We're partnering with GrooveFit Austin and Rain of Style for a Forever Fest edition of Danceoke, in which local crews compete by reenacting routines live on stage as the movie plays on the silver screen behind them.  The seats in the theater will mostly be for show because dancing is practically mandatory!
Tickets are still available here.
6)  SIXTEEN CANDLES up on the big screen with guests from the film in attendance.

We are fairly sure John Hughes is the reason we survived high school and the character we most identified with was Samantha Baker in Sixteen Candles.  A particularly rough day at school or extremely awkward interaction with an unrequited crush was just an opportunity to remind ourselves that Samantha had it worse.  We're so excited to be screening this film with Liane Curtis (Randy) and Debbie Pollack (Marlene 'Lumberjack', a.k.a. "Sexy American Girlfriend") in attendance for a Q&A following the screening.  For the ultimate high school movie we've schedule two different screening times, one at 7:00 and one at 8:30pm.
You can still get tickets here.
7)  We are throwing the ultimate 80s dance party!

Following the screenings of Sixteen Candles Liane Curtis and Debbie Pollack will be joining us at the Stephen F. Austin Intercontinental Hotel to prove that girls just wanna have fun.  DJ Fuckin' A will be there spinning 80s hits and we'll have an 80s costume contest and a photo booth so we can all finally make our Jake Ryan dreams come true.  We're already planning our outfits.
Tickets to the Sixteen Candles screening already include the party, but if you're not going to the movie you can still come to the party for just $5.  Tickets here.
8)  The Wild Brunch – a.k.a the best Sunday afternoon of our lives.
Brunch is already the best part of Sunday, but at Forever Fest we're going to have the ultimate brunch.  Along with great food and endless mimosas The Wild Brunch will feature a clip show saluting the sexiest men in Hollywood organized by highly scientific categories such as "shirtless" and "piercing gaze."  It will be the most swoon-tastic brunch ever.
Tickets are up for grabs here.
9)  An Advance Screening of THE BOOK THIEF with author Mark Zusak in attendance.
The Book Thief is one of our all time favorite books and we are so psyched to see the movie based on it.  Lucky for us Fox is bringing us an advance screening of the movie, and the man behind the incredible story, author Mark Zusak, is coming to do a Q&A and book signing.  RSVPs for the screening are already full, but the book signing will be from 6:00 – 7:00pm this Sunday at the Stephen F. Austin Intercontinental hotel and it's free and open to the public!
Additional details are available here.
10)  It will be the best weekend of your, and our, life!