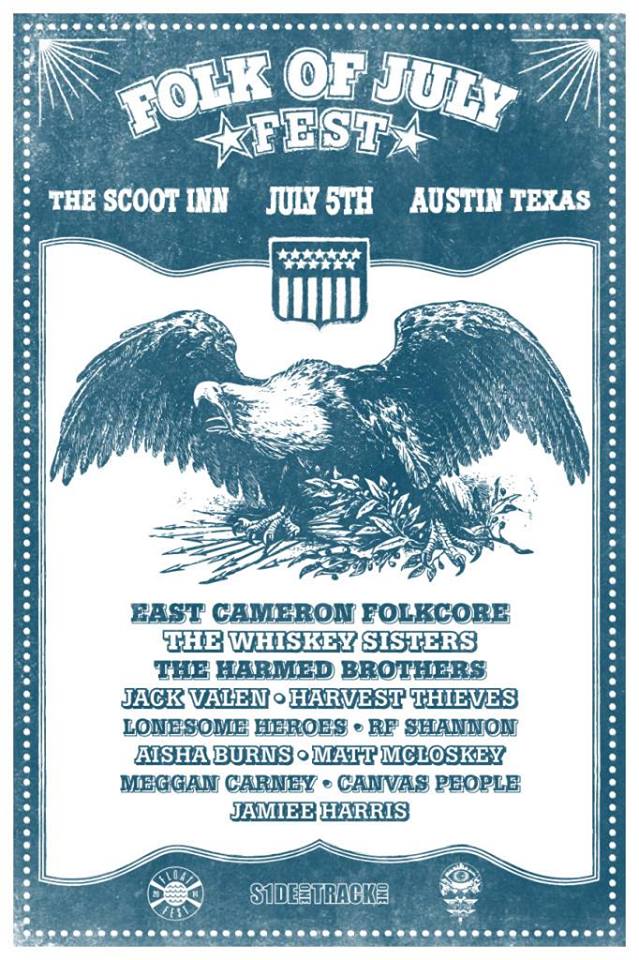 It's never too early to start making plans for the 4th of July weekend. Why not celebrate the country's musical heritage by listening to folk music as performed by several local folk and country inspired artists? Side One Track One is presenting the Folk of July Fest with Eye In The Sky Collective and Jack Valen. This fest will be taking place on Saturday, July 5 at the Historic Scoot Inn. This is a packed lineup including local favorites East Cameron Folkcore and Whiskey Sisters, and emerging artists such as RF Shannon, Aisha Burns, Jack Valen, and much more. You can purchase advance tickets here; it'll be a folkin' good time.
 —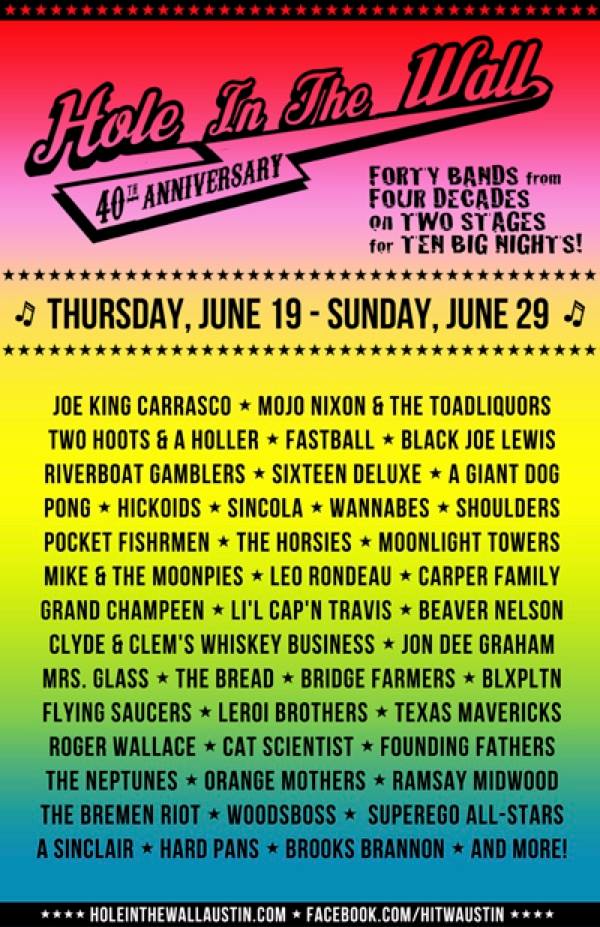 Who says you have to stop partying when you turn 40? Not Hole in the Wall. This Austin institution almost didn't make it this far so it's gratifying to know that the Hole is still humming along. It's kicking off 10 days of musical celebration tomorrow, featuring 40 favorites from four decades. When I settled in Austin 17 years ago, the Hole in the Wall was the first venue I went to to see a show. I went to see Javelin Boot – a band that I loved as a college student in the early 90s. I'm looking forward to see a bunch of bands over the span of their celebrations that I've enjoyed since calling Austin home.
Some of the lineups I'm looking forward to – tomorrow with Grand Champeen, Moonlight Towers, and Lil' Cap'n Travis, this Sunday with the Rock n' Roll Free For All Circus, and Thursday, June 26 with Riverboat Gamblers, The Bremen Riot, A Giant Dog, and BLXPTLN.  The vast lineup also includes bands that got their start at the Hole, such as Fastball, Black Joe Lewis and much, much more.
On June 29, the celebration comes to a close with a going away party for Alex and Jennie Livingstone who are beginning new adventures in North Carolina. Alex has been a part of the Hole in the Wall family since the early 2000s – both as an employee and a musician who has played countless shows there (with Grand Champeen, The Bremen Riot, Excited States, Leatherbag, Past Prayers, and probably more).  It's more than just an exercise in nostalgia – come celebrate the past but don't forget to keep the memories going … and let's make plans to meet up at the Hole's golden anniversary in 10 years, alright?