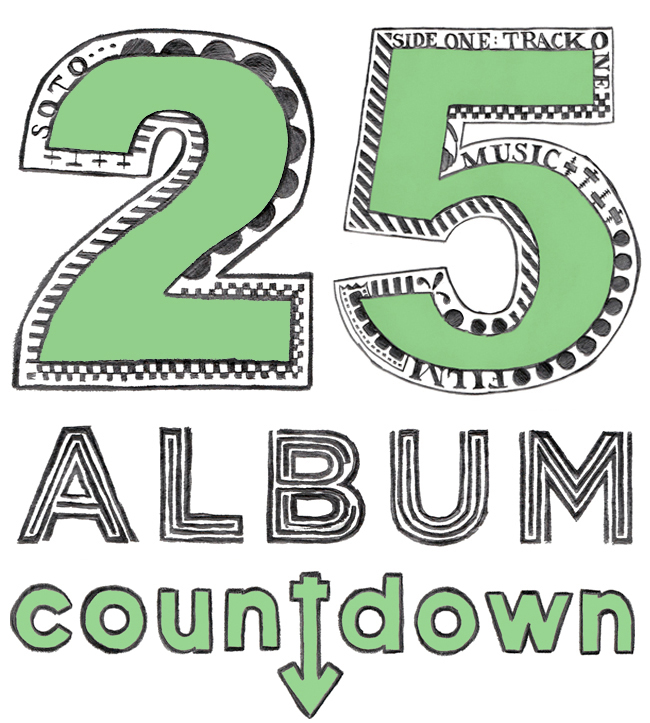 Alright friends, here's my full album list.  Unlike my Top 50 Songs of 2016, there are Austin acts here. As always, this isn't some sort of "critical" list, it's just the albums that I jammed the most this year.  Enjoy.
PS – Here's a playlist of all the albums on Spotify!
25) Deftones – Gore
While I've always liked the Deftones, I haven't legit loved an album of theirs since 2000′s Pony.  Gore wrapped me up though – it's really well crafted and features some great songs.  I went back to it often in 2016.
24) Nothing – Tired Of Tomorrow
At first I was slightly let down by Nothing's sophomore effort, but after I spent some quality time with it I became pretty damn attached.  If you're into shoegaze, then you need to listen to Tired Of Tomorrow.
23) Explosions In The Sky – The Wilderness
I love me some Explosions In The Sky.  By the way, my instrumental album rankings for 2016 go like this: 1) EITS' The Wilderness, 2) Russian Circles' Guidance and then 3) Mono's Requiem For Hell.
22) Tancred – Out Of The Garden

There isn't a song on Tancred's Out Of The Garden that isn't infectious.  Definitely a must-listen for fans of 90s indie/pop rock.
21) Thao And The Get Down Stay Down – A Man Alive
Thao continues to be one of my favorite singer/songwriters of all time.  I just connect with everything she churns out.
20) Bleached – Welcome The Worms
Bleached took a step away from surf rock on Welcome The Worms and it turned out to be a great move for them.  This album is so energetic.
19) Yung – A Youthful Dream
This kid – 22-year-old Mikkel Holm Silkjær – out of Denmark really impressed me with his debut as Yung.  A Youthful Dream is noisy in all of the right ways.
18) A Giant Dog – Pile
Austin's very own A Giant Dog have long been a favorite of mine, so I love that they totally crushed it on Pile, their debut for Merge Records.
17) Savages – Adore Life
I was obsessed with Savages' Adore Life for the first few months of the year.  Eventually I was able to wiggle myself out of its intense pull, mostly.
16) Preoccupations – Self Titled
Just in case you forgot, Viet Cong is now Preoccupations.  In regards to their self titled effort, I love that the majority of it sounds like Interpol on artsy steroids.
15) Cross Record – Wabi Sabi
Wabi Sabi is a rather ethereal effort from Cross Record, a newer band out of Austin.  The whole thing is really damn good and it totally turned me into a big fan of theirs.
14) The Hotelier – Goodness
For those of you that love anthemic rock (with a dash of emo on top), here's Goodness from The Hotelier.  I passionately rocked this album a lot in my car.
13) Frankie Cosmos – Next Thing
There isn't a single song on Frankie Cosmos' Next Thing that isn't soaked in sincerity.  She has one of those voices that makes everything feel so very genuine.
12) Terry Malts – Lost At The Party

Any time Terry Malts put out an album, you can count on it being high up on my list.  They write super catchy stuff and in general are reliably awesome.
11) Cymbals Eat Guitars – Pretty Years
Pretty Years is one hell of an album.  At one point will the masses open up to Cymbals Eat Guitars?  Those guys should be playing huge rooms.
10) White Denim – Stiff
Stiff is another high quality set of jams from White Denim.  They remain a really big favorite of mine.
09) Whitney – Light Upon The Lake
Light Upon The Lake is quite possibly the most accessible album that I came across this year.  Seriously, there's not a single track on Whitney's debut that isn't instantly likeable.
08) Basketball Shorts – Hot And Ready
Hot And Ready from Austin's Basketball Shorts was a big go-to for me in 2016.  It's 20-ish minutes of pop punk perfection.
07) Angel Olsen – My Woman
My Woman made me go from liking Angel Olsen to loving her.  What a next level effort.
06) Chance The Rapper – Coloring Book
For a while there, I only listened to Chance The Rapper's Coloring Book.  It's an inspired, energetic effort that features a lot of great songwriting.  It'll be interesting to see where he goes from here.
05) Kanye West – The Life Of Pablo
Kanye's The Life Of Pablo is a manic listen with a lot of layers.  He sure does have a lot going on in his head.
04) The Coathangers – Nosebleed Weekend
The Coathangers really hit a home run with Nosebleed Weekend.  It has a ton of great hooks and just the right amount of snarl.
03) Frank Ocean – Blonde
Frank Ocean's Blonde is a hypnotic experience.  I'm not even sure how often I've listened to the entire thing after only intending to revisit one particular song.
02) Car Seat Headrest – Teens In Denial
They may not sound alike at all, but Car Seat Headrest's Teens In Denials is like Frank Ocean's Blonde – they're both really hypnotic listens.  That Will Toledo is one hell of a songwriter.
01) White Lung – Paradise
Of all the EPs and LPs I listened to 2016, White Lung's Paradise is the one that I jammed the most.  It's loud and heavy and the best modern rock album I've come across in years. Congrats to the band for nailing it and grabbing the top spot on my list.