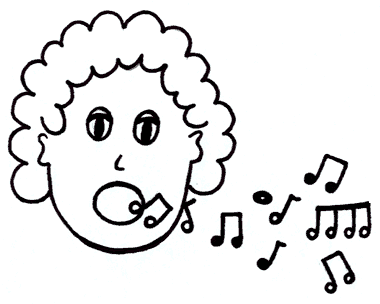 One of my all time favorite activities of absolutely ever (say that 5 times fast) is singing along to songs. I sing loudly, with deep feeling. I sing with interpretive dance moves. I sing with great abandon, and rarely in tune. And I encourage everyone to do so as well; it just makes you feel better, no matter what. For those of you who may be shy, I present to you my top three fool-proof sing along list. If you can resist these songs, then our friendship probably wasn't meant to be.
:Paul Simon – You Can Call Me Al:  Even if you've never heard this song, it's pretty easy to pick up the chorus immediately. It's fun and silly, and an excellent best friends or relationship song. Talk about interpretive dancing … it's pretty much a crime not to make large theatrical dance moves to this song. Bonus points for dramatic facial expressions.
:Death Cab For Cutie – Crooked Teeth:  It may not be a traditional choice, but once you bust it out with similarly Death Cab obsessed friends, you'll get it. An upbeat tune and totally depressing lyrics, it's great to bust out when someone needs commiseration. It's also just a great, catchy tune. My friend Maurice and I once led a small crowd of friends and strangers in a sing-along to this song in a gas station parking lot at about 1am in Denton, TX.
:Elton John – Tiny Dancer:  Do I even need to explain this one? For further info, see: only the best scene in Almost Famous. The song has healing properties. It just does.