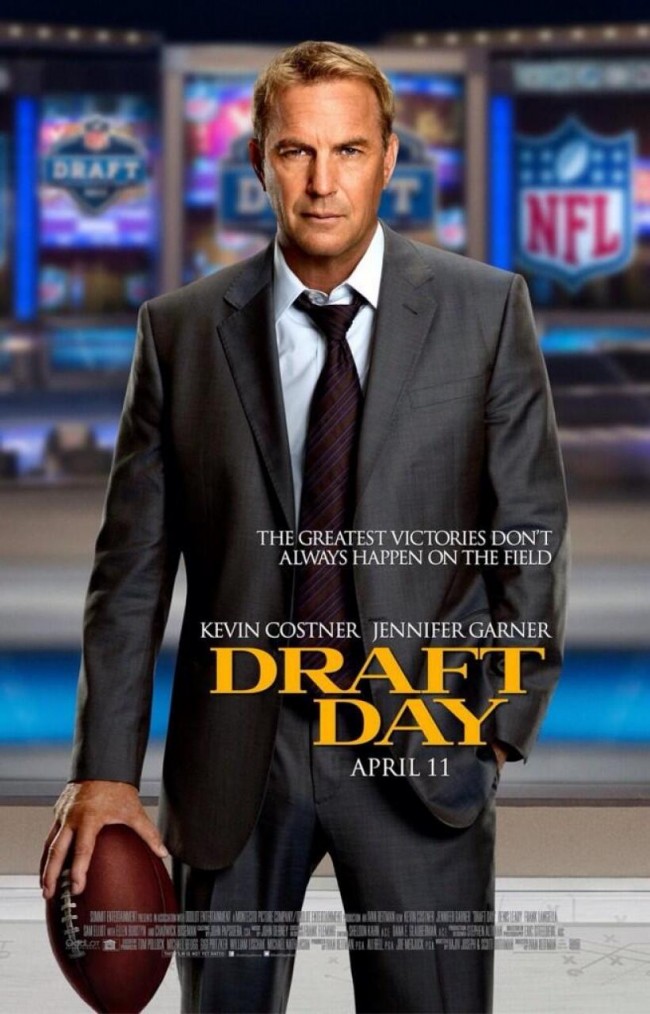 People are doing traditional-style reviews all over the web, so we decided to try something different.  In each "breakdown" we'll take a look at what a film's marketing lead us to believe, how the movie actually played, and then what we learned from it all.  Read on!
The Impression:
Kevin Costner is on a tear now that he's old and any film where he's talk sports is usually a safe bet. That said, nothing about any of the promotional material has pointed towards this being anything more than a bland, loosely sports-related romantic comedy.
The Reality:
Maybe I just love sports films, but you know, Draft Day was pretty solid. Set entirely between the hours of Midnight and Midnight on Draft Day 2014, the film follows Sonny Weaver Jr. (Kevin Costner) as he tries to negotiate to make the Cleveland Browns a viable team, prove himself as a competent manager in the daunting wake of his father, and to (pretty lamely) mend his personal life. The film wants to be the Aaron Sorkin version of the NFL Draft, but Ivan Reitman only really gets around to the fast-talking and deal-making in the last 20 minutes or so of the film. Instead the film is sort of a slow burn kind of story that focuses on Sonny Weaver Jr. dealing with the immense pressure of being the main decision maker for a professional football team. The film is chock full of a sort of homespun wisdom and charm, with Costner's gruff but loving General Manager doling out life lessons left and right, and his hard-headed staff of lovable coaches filling in the gaps with decidedly PG humor.
What's strange about the film is that as much as it wants to be about the solid character that makes up the core of professional football, everything about the production design is polished to an almost unrealistic sheen. The Cleveland Browns' stadium and facilities seem to have never seen dirt, and every player is a strapping lad pulled from the pages of GQ. I don't need every sports film to be about down-on-their luck characters rising from the ashes, but Draft Day is so squeaky clean, it's easy to forget at times that the film is talking football. Couple that with the fact that film is almost entirely a character study of Costner's Sweeney Jr. with football as a backdrop (a scene where a handful of actors playing coaches try to "talk shop" is particularly awkward) and this could be a godawful film, but Reitman manages to keep the ship solidly on course, crafting a behind-the-scene sports flick that doesn't reinvent the wheel but ably keeps it rolling.
The Lesson:
Costner + Sports = Enjoyment.