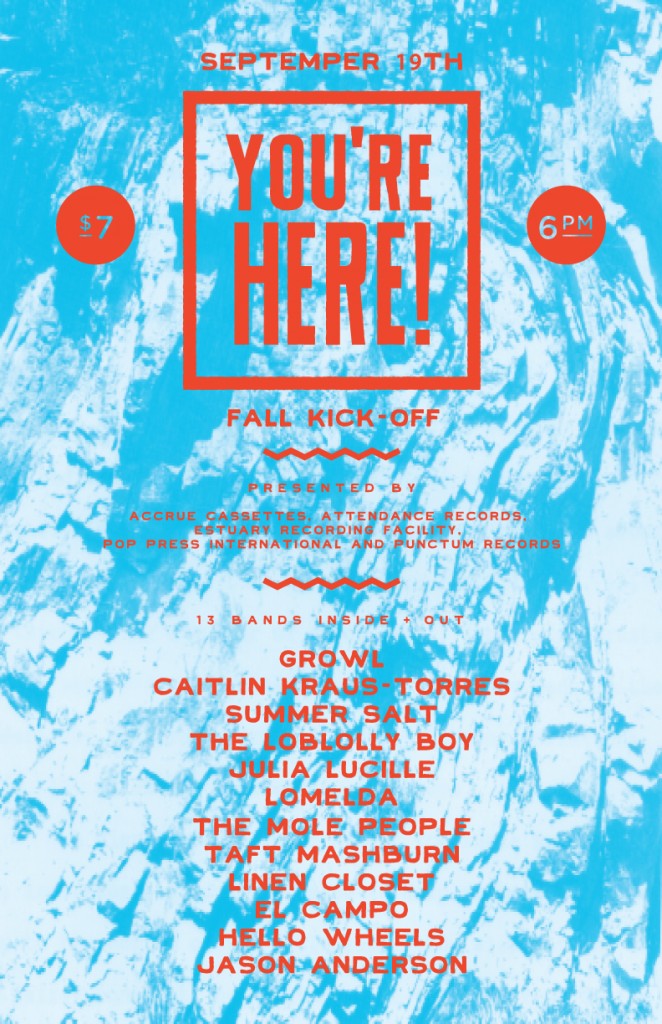 This Friday at Cheer Up Charlie's, Accrue Cassettes, Attendance Records, Estuary Recording Facility, Pop Press International, and Punctum Records have partnered up to present the You're Here! Fall Kick Off.  During SXSW 2014, the same folks got together to present some excellent free day shows, and the goal of this event is to raise funds to put on another round of shows for SXSW 2015. The 13 band lineup is enough to make a local music lover like me absolutely giddy – it includes a few of my personal favorites such as Yum, Growl, Summer Salt, Linen Closet, The Loblolly Boy, and much more.
The cover is only $7 and the show starts early (doors open at 6pm). I think that early start times are a great idea on Friday nights, especially if you've had a long, tiring work week and there's no time for a power nap before the show. Even better, this is a worthy show to support as it's been thoughtfully put together by a passionate group of music lovers who want to spread the word about great local talent.
—

This Saturday at Empire Control Room & Garage – as part of WEEKENDER AUSTIN – there is a daytime show (set your alarms, sleepyheads, as doors open at 1pm) appropriately named the Daybender Day Party. This lineup is also packed with a long list of fun local bands including Marmalakes, Walker Lukens Music, TAFT, Little Lo, Genuine Leather and much more.
Tickets are $10 in advance or $15 at the door ($65 if you purchase the 4 day Weekender pass); if you do the math for the party, that's less than $1.15 per band. This show also doubles as a vinyl release show for TAFT and Little Lo, who have a split 7 " single on Punctum Records. More local music that you can shake a stick at and you can still make to see to Bob Mould at The Mohawk later that night. Whew.