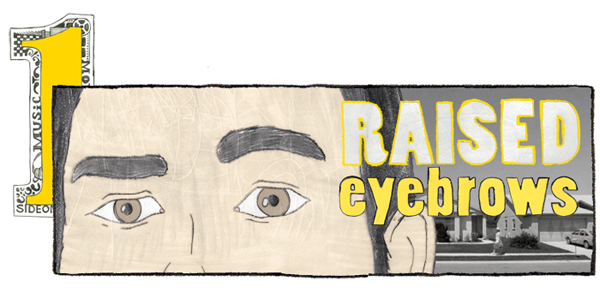 Beginning in 1990, Crosstalk started to sound very different than it had in previous years. Maybe it was the rejection of nostalgia or the faded convictions of punk rock, either way the idea of Crosstalk took a large leap forward both in sound and execution. After the 1990s, a new century gave prominence to indie culture and with it, an acute sense of the past. These factors continue to transfigure Crosstalk as it soldiers on in the modern world. Let's continue.
—
Fugazi – Repeater (1990)
The combination of Ian MacKaye and Guy Picciotto on 1990's Repeater is a momentous one. Never before had anyone taken the twin guitar attack to such extremes.. Fugazi introduced a new sound to an old concept, making them the modern archetype for Crosstalk going forward. It's the beginning of a new age.
—
Polvo – Vibracobra (1992)
Polvo's Ash Bowie and David Brylawski marched Crosstalk straight into the 1990s. Beginning with their first LP, Cor-Crane Secret, Polvo established themselves as something otherworldly in the then blossoming indie scene. Vibracobra should be the audio example on the Crosstalk wiki page.
—
Sonic Youth – The Diamond Sea (1995)
When people talk about rock music with two guitars, Sonic Youth inevitably show up in the conversation. Thurston Moore and Lee Ranaldo have both cemented their place in the Crosstalk hall of fame with countless jams in probably every tuning imaginable. Sonic Youth's status as both a band and a cultural anomaly is not something to be taken lightly by anybody. This track comes from the 1995 DGC release, Washing Machine.
—
Stephen Malkmus and the Jicks – 1% of One (2003)
With Pavement far behind him and a new band dubbed The Jicks, Stephen Malkmus decided to get out and stretch his legs a bit on 2003's Pig Lib. Malkmus is joined here for the first time by guitarist/keyboardist Mike Clark. It's the first LP where we truly hear Stevie "Guitar" Malkmus take center stage with Clark riding shotgun versus taking an easy back seat.
—
Wilco – Impossible Germany (2007)
Another fine example of Crosstalk courtesy of Jeff Tweedy, Nels Cline, and Pat Sansone of the band Wilco. I don't dig on Nels Cline often but he swings for the fences on Impossible Germany leaving Tweedy and Sansone to intertwine in the perfect requiem riff to channel his defining solo. Another high mark from a band that almost single handedly carried Americana into the 21st century.
—
Field Music – Share The Words (2010)
Field Music is essentially Peter and David Brewis. The brothers began in 2005, were on hiatus after 2007 and returned with the double album Measure in 2010. Buried on the second disc of Measure is a Crosstalk dream come true entitled Share The Words. The track finds Beatles rooftop riffs darting off of punk funk rhythms, climaxing with a tough solo in the mighty key of E.
—
Parquet Courts – Yr No Stoner (2012)
Self described as "The Fall meets Neil Young", Parquet Courts is one of the primary acts ushering Crosstalk into the post modern indie rock era. The team of Andrew Savage and Austin Brown is one of chaotic unanimity throughout their breakout LP, Light Up Gold. Synchronicity through fluky feedback and reaching solos, boys are dying on these streets!
—
White Denim – Come Back (2013)
Imagine an Innervisions influenced band featuring Jeff Baxter and Denny Dias. What you'd get is something close to White Denim. After adding guitarist Austin Jenkins to the lineup in 2010, leader James Petralli found the perfect compliment to fulfill his Patto inspired ambitions. White Denim gives high hopes for the future of Crosstalk in all its varied forms. Here is to another 60 years.
—
Stream the entire playlist for Crosstalk – Part 2 anytime here: