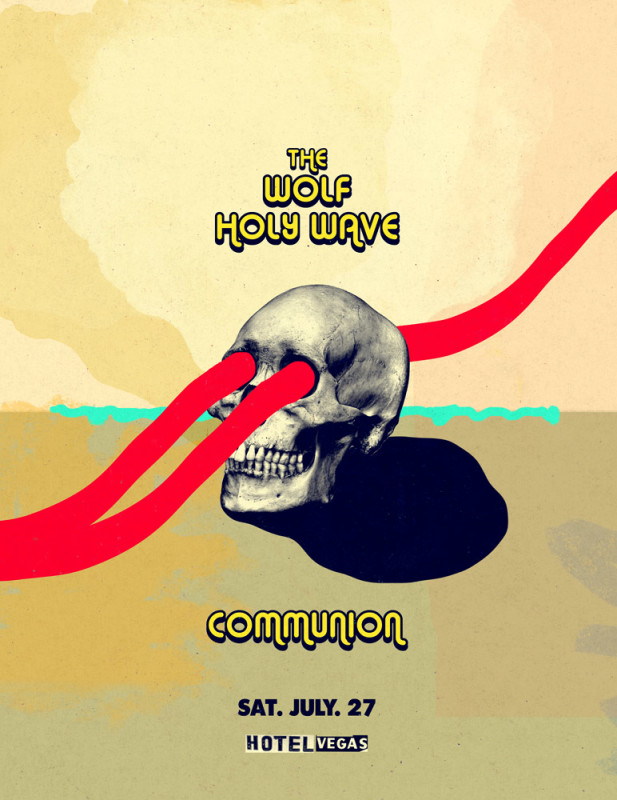 Last weekend I took my annual trip to Chicago for the Pitchfork Music Festival. As far as 3-day festivals goes, it's as good as it gets (with the exception of Fun Fun Fun Fest, of course). The thing Fun Fun Fun has that Pitchfork really needs is a Black stage. I love indie rock and rap as much as the next guy, but when it comes to live music, I prefer the heavy stuff. At Pitchfork bands such as Belle & Sebastian, Bjork, and M.I.A. drew huge crowds, but my favorite sets were by Metz, Mikal Cronin, Parquet Courts and OBN IIIs.  The louder the better, and that's why this Saturday I will be at Hotel Vegas for a triple bill of psych rock, garage rock, and doom metal as The Wolf, Holy Wave, and Communion take the stage.
Communion features members of Axes to the Sky, The Roller, and Sweat Lodge. They only have two songs up on Bandcamp and each one is at least fifteen minutes long. They play guitar heavy drone rock that's hypnotic, enveloping, and a little menacing.
Next up is Holy Wave, an Austin-via-El Paso band that manages to mix fuzzy shoegaze, surf rock, and sonic experimentations to produce their unique brand of psych. Each time I've seen these guys there's a point during their set where everything clicks and the whole band is perfectly in synch. It's hard to explain, but you have to see them live to appreciate how great they are. This is the first track off of RELAX, their first full length which is being released in November by Reverberation Appreciation Society.
Closing things down on Saturday is psychedelic garage rock masters, The Wolf. The six-piece features members of The Bad Lovers (LOVE that band) and in February they released their first album, Strange Flowers. I was a fan of their debut, a self-titled EP, but the band really stepped things up on Strange Flowers. It features thirteen tracks and each one is a total jam. Here's hoping they play the whole thing start to finish on Saturday night.