Perhaps you overindulged last weekend during Record Store Day but you're still looking for some local live musical action? Fear not. Tonight you can head over to Stubb's (inside stage) to see two of Austin's finest indie pop bands – Tele Novella and The Sour Notes. They're playing a FREE show following HAIM, who are playing a sold out gig on the outside stage at Stubb's.
Come wish Tele Novella a safe journey as they head out on tour to parts of the Midwest and Southeast. If you have come cash to spare, buy some merch to give them a helping hand. Their style of lush psychedelic tinged pop makes my heart flutter and I'm looking forward to hearing more from them as they continue to work on new material.
The Sour Notes are one of the hardest working and most engaging bands in Austin – when they're not crafting their own material or touring, they're booking shows and collaborating with other bands and venues to keep the local music scene alive and kicking. Their long awaited album, Do What May, will be released later this spring.
The Sour Notes are on at Stubb's around 10:30 and will be followed by Tele Novella at 11:30 or so.
—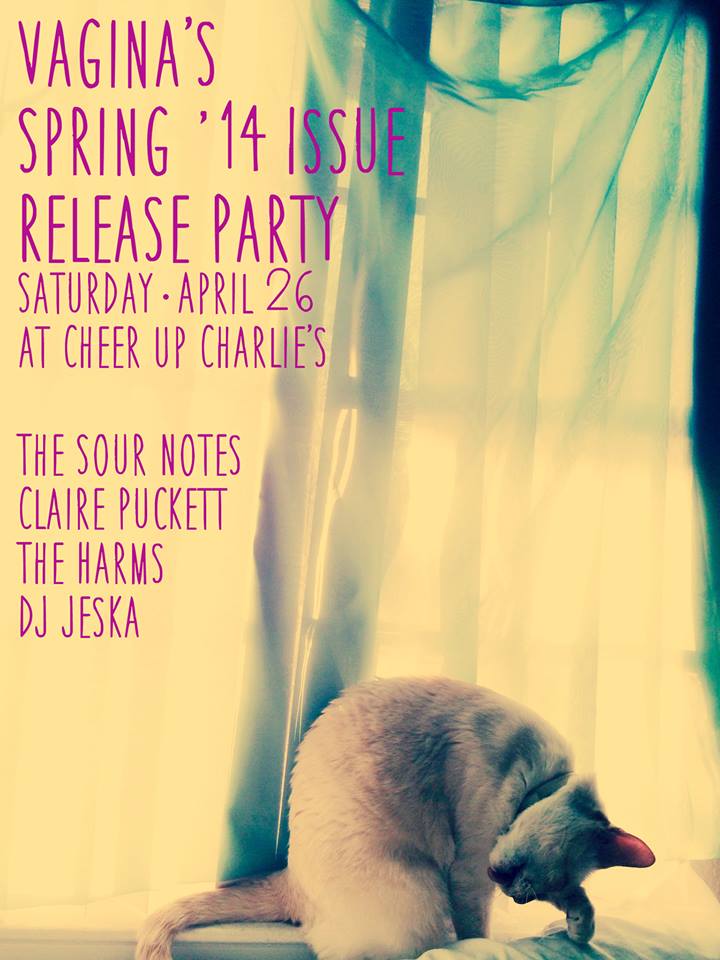 If you can't catch The Sour Notes on Wednesday, you can see them at another FREE show this Saturday at Cheer Up Charlie's when they play the launch party to celebrate the first issue of Vagina: The Zine.  On their website they proclaim their mission – "With its quarterly publications, Vagina provides a space for female contributors to share their creative work with the public. The zine features a unique variety of opinions, passions, and observations from our contributors. The Vagina editors are striving to showcase the talents and opinions of ladies, not limit them. We only ask that our contributors identify as women, whether they have a vagina or not."
The Sour Notes are joined by The Harms, Claire Puckett (from Mother Falcon), and DJ Jeska of Royal Commission. Cheer Up Charlie's is a sponsor and supporter of this growing zine; it is also thriving in its new location on Red River after its displacement from its original East 6th Sreet location  - I encouraged you to come on out to support both the literary and music communities this weekend.