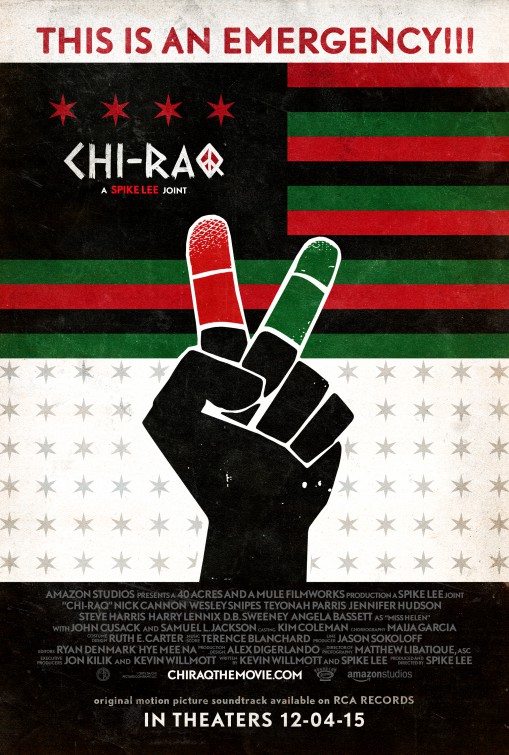 The Impression:
Spike Lee takes on Chicago's gang violence problem via a modern interpretation of Aristophanes' Lysistrata, which, according to Wikipedia, is a "Classical Greek comedy in which various women withhold physical affection from their husbands as punishment for fighting in war."  Honestly, the whole thing looks kind of bonkers.
The Reality:
Chi-Raq is a total mess.  There's just no other way to describe it.  Seriously – I've had Spike Lee's latest joint on the brain since my screening wrapped, and I've come to the conclusion that it is truly a film that can only be described as a complete and total mess.  What's wild about it though is that it isn't bad.  Lee pulls out all of the stops to try and clue the world in on the terrible things currently happening in Chicago, and the end result is a bizarre beast of a fever dream that's both inspiring and infuriating.  It's a steadily entertaining movie, but it's far too long.  Its "this whole gang violence thing is bad and we need to address it now" message is fantastic, but it's also very heavy handed and isn't particularly focused.  I dig that Lee used the Greek comedy Lysistrata as his basis for Chi-Raq, but it often comes off as too gimmicky with its moderately clever rhyming dialogue and too many satirical bits that fall flat.  Teyonah Parris, John Cusack and Samuel L. Jackson are great in it, but Nick Cannon as a rapper/gangster is laughable and I'm still not sure if the film featured the actual Jennifer Hudson or a robot version of her.  Again, it's an equally triumphant and frustrating film.
So, should you see it?  I'm going to hesitantly say yes.  The film certainly baffled me, but I still walked out of the theater feeling as though I saw something important.
The Lesson:
"It's better to deliver a heavy handed message than no message at all" – Someone, Somewhere.