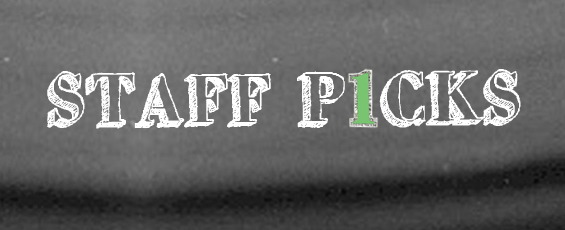 I've rambled on long enough about the music I liked in 2014.  Here are the staff's picks.  Enjoy.

Turns out that aside from the crippling bodily ailments and the inability to control my bladder, getting older has made me absolutely awful at listening to music. Don't hate haters, I've just gotten over the hump of 30 and all of sudden I just can't focus enough to listen to a whole album. Blame it on the SNES I brought home for my girlfriend's birthday, blame it on the imposition of real life, blame it on the encroaching approach of a potent mix of early onset dementia and Adult ADHD – I've just been really bad at music listening this year. Thus, my teensy tiny list of music is culled from a pond not nearly as large as I'd hoped it to be. That said, the music I liked, I loved and that's the music that ended up below.
Parkay Quarts – Content Nausea
Mac DeMarco – Salad Days
Caribou – Our Love
Vince Staples – Hell Can Wait
Perfume Genius – Too Bright

Since 2010, rock music hasn't changed all that much. There's presently a general look back to past niche musics from the 1960′s onward. But through the nostalgia haze, there are a great deal of both old and new artists finding new latitudes. Here's my major jams this year.
1. Thurston Moore – The Best Day (Matador)
2. David Kilgour & The Heavy Eights – End Times Undone (Merge)
3. Steve Gunn – Way out Weather (PoB)
4. Datashock – Keine Oase in Sicht (Dekorder)
5. William Tyler – Lost Colony (Merge)

I've been staring at my 2014 list like a student procrastinating on their end of the semester term paper.  I go back and forth on who to include, who to leave out, and recalling releases (d'oh!) I never got around to checking out. There are also the nagging doubts such as wondering if I gave an album enough listens to put it on my list. Like last year my list focuses on my local Austin favorites. Narrowing it down to the Top 5 wasn't easy but I stand by my choices of my faves that earned multiple listens. So many good bands to choose from but oh what a problem to have, right?
In no particular order, I present to you :
The Sour Notes – Do What May
Abram Shook – Sun Marquee
Alex Napping – This Is Not A Bedroom
She Sir – Go Guitars
Shivery Shakes – Three Waves and A Shake
Honorable Mentions: The Ugly Beats – Brand New Day, Roger Sellers – Primitives, Genuine Leather – Losers

Compared to last year, 2014 left much to be desired when it comes to the sheer number of amazing releases. 2013 offered probably 15 to 20 "crap your pants while listening best record of the century" type stuff but then after that it sort of fell short in the real meat of the pack by not having a lot to deepen the core of metal. The reverse of which is true this year, I have attached to a few records as rising to the tippy top of the heap, but the real glory came in the form of the fat of the genre, so many decent albums from so many artists, many debuts, but several just continuations on great careers, but few to get all wigged out about.
My Top 5 you can see here are pretty clear choices though when you look at what they accomplished on these albums, Devn Townsend Project made two albums into one, and continued the story or Ziltoid the Omniscient, Anaal Nathrakh did what they do, but better, Job for a Cowboy somehow made bass a relevant instrument in death metal, At the Gates reunited after 900 years and proved they still have it, and Black Crown Initiate stole the show with their debut mixing death metal and melodic anthems into something technically proficient and sufficiently mind blowing. I was not let down this year, but I know I will be surprised in a few years with what I actually retained from 2014, not sure if you would agree, but that's how I see things …
5. Devin Townsend Project – Ziltoid 2 (Century Media)
4. Anaal Nathrakh – Desideratum (Metal Blade)
3. Job For A Cowboy – Sun Eater (Metal Blade)
2. At The Gates – At War With Reality (Century Media)
1. Black Crown Initiate – The Wreckage Of Stars (eOne Entertainment)

I guess I'll start by saying that 2014 hasn't been an amazing year for hip hop, but it hasn't been a completely terrible one either.  Here are my choices for the best releases this year, in no particular order:
Open Mike Eagle – Dark Comedy
Run The Jewels – RTJ2
Vince Staples – Hell Can Wait
Big K.R.I.T. – Cadillactica
Shabazz Palaces – Lese Majaesty

T'was a solid year for melancholy songs. Albums that truly destroyed the center of the cardiovascular system were aplenty. We're living in a golden age of audio misery! There were SO MANY great releases that dehydrated our tear ducts but since you, the readers, are demanding a definitive ranking of the saddest albums of the year, so be it. I've done the requisite soul searching and came up with this predominantly lady-heavy list of my fav weepers of the year. They are full of gut wrenchers, soul crushers … and they are all fantastic. Way to bring the pain this year, ladies!
1: Beck – Morning Phase
2. Lykke Li – I Never Learn
3. Divorcee – Self Titled
4. Jenny Lewis – The Voyager
5. Angel Olsen – Burn Your Fire For No Witness
Best Reissue: American Football – Self Titled

Narrowing down my top albums is a tortuous process. I'm an old-school guy. I still listen to entire albums from start to finish and only occasionally opt for a playlist of singles. Immersing yourself in an album is the most satisfying way way to connect with the music. So I get really dialed into my favorite albums each year, which makes narrowing down the lot a difficult task.
Before we get to my top five, let's take a minute to recognized the amazing amount of quality music released this year by 12XU. It was far and away the top Austin label in 2014. They featured not only one of my top artists (The Dead Space) and but also three others in my top 10 (Flesh Lights, Jonly Bonly, The Gotobeds).
1) Ghetto Ghouls – Self Titled
2) The Dead Space – Faker
3) Protomartyr – Under Color of Official Right
4) Ex Hex – Rips
5) OBN IIIs – Third Time To Harm