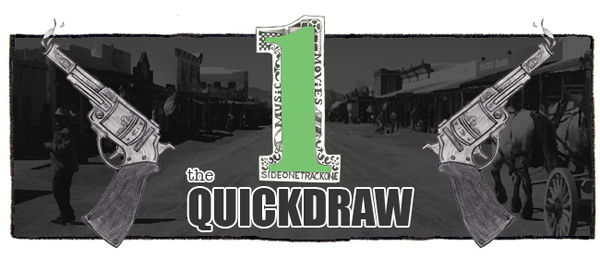 Please be sure to water today's music at least three times a week.  Enjoy.
:Gap Dream – Generator:  Gabe Fulvimar is Gap Dream, and he recorded the various parts of this song in his bedroom by himself.  That's impressive.  I'm excite to hear more from the guy.  The Ali Baba 7″ will be out on October 2 via Suicide Squeeze's single series.
:The Last Names – The Dirt:  The husband/wife duo of Justin and Darbie Rice, who normally perform in Bishop Allen, are the main brains behind this band.  They've put together some good stuff, which you'll see for yourself when you hit play on this charming track.  Wilderness is due out October 2.  The Last Names also have a covers project you should check out.
:Santah – Indigo:  I really love this song.  It's an inspired and well made piece of pop, and I couldn't take it off repeat all weekend.  Hopefully, there will be more of the same on their upcoming EP.  The effort is titled You're Still A Lover, and it's due out October 16.
:Black Forest Fire – Live News Feed:  Here's an Austin band that I'm somehow not familiar with at all.  Shame on me.  Anyhow, they've got a nice shoegaze-enthused sound, and I think you're going to dig it.  Transit Of Venus is due out November 13 via Sedimental Records.
:Levek – Girl In The Fog:  It took me a couple of listens to get into this minimalistic song, but once I did it really stuck with me.  Be sure to give some attention to the great songwriting.  Look A Little Closer will be released on September 25 via Lefse Records.